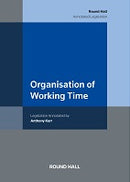 Description
Author : Anthony Kerr
Publisher: Round Hall
Publication Date: 25/06/2019
ISBN: 9780414073074
The Organisation of Working Time Act 1997 implements what is now Parliament and Council Directive 2003/88/EC. The 1997 Act regulates minimum daily and weekly rest periods and other rests and intervals at work; weekly working hours; nightly working hours; and annual leave and public holidays. With effect from 4 March 2019, the 1997 Act was amended by the Employment (Miscellaneous Provisions) Act 2018 inserting new provisions on zero-hour contracts and banded hours.
The Directive and the 1997 Act have generated a considerable amount of case law on issues such as the meaning of "working time"; the extent of an employer's obligation to ensure that employees take their rest breaks and periods; and under what circumstances can annual leave accrue during periods of sick leave, all of which is fully considered in the annotations to the 1997 Act. Particular attention is paid to areas where the 1997 Act appears not to be in compliance with the Directive as interpreted by the Court of Justice.
This text includes all the Directives, including those covering the various transport sectors, and the Statutory Instruments relating to working time, together with the fully consolidated and annotated text of the 1997 Act, and the relevant provisions of the Workplace Relations Act 2015.
Also included is the European Commission's Interpretative Communication on the Directive.
The Author
Anthony Kerr is Senior Counsel Associate Professor at the UCD Sutherland School of Law. He is a member of the Executive Committee of the International Society for Labour & Social Security Law, a National Reporter for the International Labour Law Reports and the Ireland representative on the European Labour Law Network and the European Centre of Expertise in the field of labour law, employment and labour market policies.
Contact Us
Contact Us
LegalBooks.ie
Legal & General Shop
The Law Society Building
The Four Courts
Dublin 7
01 8725522
info@legalbooks.ie
D07 N972

VAT number: IE4814267p


Payment & Security
Your payment information is processed securely. We do not store credit card details nor have access to your credit card information.