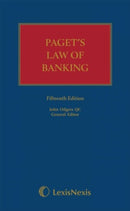 Description
First published in 1904, Paget's Law of Banking has established itself as the leading practitioner text on banking law, combining meticulous accuracy and depth with a clear approach to this complex area. The 15th edition has been updated and expanded to provide a thoroughly modern approach to the subject matter, while remaining unique in providing a comprehensive, clear and accurate statement of the law of banking, with a particular emphasis on the principles which underpin the case law.
Contact Us
Contact Us
LegalBooks.ie
Legal & General Shop
The Law Society Building
The Four Courts
Dublin 7
01 8725522
info@legalbooks.ie
D07 N972

VAT number: IE4814267p


Payment & Security
Your payment information is processed securely. We do not store credit card details nor have access to your credit card information.