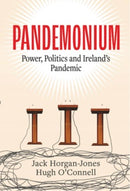 Description
By Jack Horgan Jones, Hugh O'Connell
Format: Paperback / softback 320 pages
Publisher: Gill
Imprint: Gill Books
ISBN: 9780717193981
Published: 29 Apr 2022
Ireland's lockdowns were harsher and longer than almost anywhere else in the developed world. The existential threat from the pandemic led to an unprecedented mass mobilisation of the state's institutions. As Ireland was battered by waves of disease time and again, unparalleled pressures and untold tensions emerged as the country went to war with Covid, and policymakers and politicians did battle with each other.
How were the key decisions made? Who held the power? As Ireland is convulsed with Covid, this book takes a seat at the table during the moments that mattered. Forensically researched and told with clarity and force, this book examines a defining era. Boasting unrivalled access to the key decision-makers, and drawing on hundreds of hours of interviews and thousands of pages of unpublished and confidential documents, the authors reveal the moves, the power-plays and the - at times jaw-dropping - tactics of a government with the health of a nation in its hands.
Contact Us
Contact Us
LegalBooks.ie
Legal & General Shop
The Law Society Building
The Four Courts
Dublin 7
01 8725522
info@legalbooks.ie
D07 N972

VAT number: IE4814267p


Payment & Security
Your payment information is processed securely. We do not store credit card details nor have access to your credit card information.