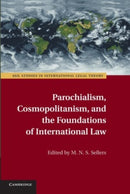 Description
Edited by: M.N.S. Sellers
Series: ASIL Studies in International Legal Theory
Format: Paperback / softback 304 pages
Publisher: Cambridge University Press
Imprint: Cambridge University Press
ISBN: 9781107435896
Published: 21 Aug 2014
This book examines the boundary between parochial and cosmopolitan justice. Parochialism and cosmopolitanism are two faces of international law, which recognizes our common humanity by protecting us in our differences. Essays in this book ask to what extent law should recognize or support the political, historical, cultural and economic differences among nations.
Nine lawyers and philosophers from five continents consider whether certain states or persons deserve special treatment, exemptions or heightened duties under international law. Contributors draw the line between international law, national jurisdiction and the private autonomy of persons.
Contact Us
Contact Us
LegalBooks.ie
Legal & General Shop
The Law Society Building
The Four Courts
Dublin 7
01 8725522
info@legalbooks.ie
Payment & Security
Your payment information is processed securely. We do not store credit card details nor have access to your credit card information.