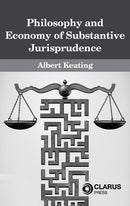 Description
Author: Dr Albert Keating 
ISBN: 978-1-911611-15-8 
Publication Date: 2018
About
In The Philosophy and Economy of Substantive Jurisprudence, the author analyses the fundamental nature and economy of substantive jurisprudence. He argues that the philosophy of substantive jurisprudence may be structured on the Cartesian method of reasoning consisting of the two primary rules, viz. the intuitive rule, which states that a conception of a clear mind is formed by reason alone, and deductive rule, that inferences may be deduced from facts that are known for certain, and employing both rules to explain the intuitive, deductive interpretative and adductive philosophy of substantive jurisprudence. The Cartesian method may also be employed to distinguish between right and wrong thinking by persons when measured against objective and reasonable standards of behaviour. When the courts engage in the interpretative construction of Acts of the Oireachtas they may also formulate or reformulate principles and tests when so doing, and the author argues that such principles and tests may be viewed as acquiring the status of interpretative sources of law. The work also shows and explains the economy of substantive jurisprudence as comprised of the concepts of naturalism, positivism, legal validity, rules, principles and propositions.
Content includes
Part 1 – Intuitive Philosophy
Introduction
Intuitive Philosophy
The History of Intuitive Philosophy
Intuitive Philosophy and Practical Reasonableness
Sine Rationem Non Est Lex
Part II – Deductive Philosophy
Introduction
Deductive Philosophy
Perfection of Rules
Hart's Rules
Criticism of Hart's Concept
Part III – Legal Ideals and Interpretative Principles
Introduction
Legal Ideals and Interpretative Principles
Interpretative Sources of Law
Part IV – Legal Propositions and Equitable Principles
Introduction
Legal Propositions
Equitable Principles
The Modifying Effect of Equitable Doctrines
The Portion Principle
Part V – Right-Thinking and Wrong-Thinking
Introduction
Requirements of Practical Reasonableness
Statutory Checks on Wrong-Thinking Testators
Equitable Checks on Wrong-Thinking Owners of Land
Part VI – Standards of Rule-Making and Formulation of Principles
Introduction
Standards of Rule-Making
Ambiguous Language
The Formulation of Interpretative Principles and Tests
 
Part VII – The Economy of Substantive Jurisprudence
Introduction
Concepts of Legal Validity
Concepts of Principles and Rules
Concepts of Rights
Concepts of Justice
Part VIII – Epilogue
Who Should Buy This Book?
The Philosophy and Economy of Substantive Jurisprudence is essential reading for anyone interested in jurisprudence.
About the Author
Dr Albert Keating BCL, LLB, LLM, BL, DLitt, is a barrister-at-law and former senior lecturer in law at Waterford Institute of Technology. His published works on jurisprudence include Applied Jurisprudence and Principles of Legal Practice, Jurisprudence Third Edition (2016), and numerous articles on the subject in the Irish Law Times. His published works on probate and succession law include Succession Law in Ireland (2015) Keating on Probate (2015) (5th ed) and Succession Law in Ireland, Principles, Case and Commentary (2016). His books also include Probate Law and Practice, Probate Law and Practice Case Book, Probate Causes and Related Matters, Keating on Probate (2nd ed) The Law of Wills, Equitable Succession Rights, The Construction of Wills, The Law and Practice of Personal Representatives, Keating on Probate (3rd ed), Irish Wills Precedents, Irish Probate Precedents and Keating on Probate – The Complete Words, CD-Rom, (2004). He has also published numerous articles on probate and succession law in such journals as the Conveyancing and Property Law Journal, Irish Law Times, Irish Probate Law Journal and Judicial Studies Institute Journal, and chapters on Probate and Succession Law in the Annual Review of Irish Law since 2004.
 
Contact Us
Contact Us
LegalBooks.ie
Legal & General Shop
The Law Society Building
The Four Courts
Dublin 7
01 8725522
info@legalbooks.ie
D07 N972

VAT number: IE4814267p


Payment & Security
Your payment information is processed securely. We do not store credit card details nor have access to your credit card information.