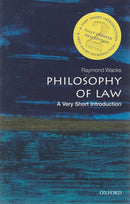 Description
Raymond Wacks

ISBN13: 9780199687008
Previous Edition ISBN: 9780192806918
Published: February 2014
Publisher: Oxford University Press
Country of Publication: UK
Format: Paperback, Pocketbook
The concept of law lies at the heart of our social and political life. Legal philosophy, or jurisprudence, explores the notion of law and its role in society, illuminating its meaning and its relation to the universal questions of justice, rights, and morality.

In this Very Short Introduction Raymond Wacks analyses the nature and purpose of the legal system, and the practice by courts, lawyers, and judges.

Wacks reveals the intriguing and challenging nature of legal philosophy with clarity and enthusiasm, providing an enlightening guide to the central questions of legal theory. In this revised edition Wacks makes a number of updates including new material on legal realism, changes to the approach to the analysis of law and legal theory, and updates to historical and anthropological jurisprudence.



Contents:
Introduction
1. Natural law
2. Legal positivism
3. Dworkin: the moral integrity of law
4. Rights and justice
5. Law and society
6. Critical legal theory
7. Understanding law: a very short epilogue
References
Further reading
Contact Us
Contact Us
LegalBooks.ie
Legal & General Shop
The Law Society Building
The Four Courts
Dublin 7
01 8725522
info@legalbooks.ie
D07 N972

VAT number: IE4814267p


Payment & Security
Your payment information is processed securely. We do not store credit card details nor have access to your credit card information.