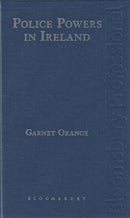 Description
By: Garnet Orange

ISBN13: 9781780434773
Published: January 2014

Format: Hardback

Police Powers in Ireland covers everything a practitioner needs to know about police powers. There is no closer tie to criminal law than the powers of the police in the country.

The book is a practical every-day guide and is useful to people who practise in the area as it refers to cases not cited elsewhere. It starts with the history of the force, their duties and powers.

Then it details the importance of human rights (liberty, property rights, privacy, right to silence, rights of detained persons); the interpretation of legislation regarding police powers and the limitation of those powers; the relationship between the police and the public; and arrest and detention.

Covers the following key areas:-

Judges' Rules and the questioning of suspects;
Adverse inference (ie when people fail to answer questions);
Police powers to enter property and powers to search that property;
Stop and search of vehicles;
Observation, surveillance and phone-tapping;
Evidence (seizure and retention of);
Forensic evidence;
Visual ID (parades, videos, photos);
Entrapment;
Trial and remedies (civil proceedings);
Garda Ombudsman.
Includes the following consolidated legislation:

Criminal Justice Act, 1984 (and other Acts relating to arrestable offences and relevant offences);
Offences Against the State 1939 to 1998 (scheduled offences);
Misuse of Drugs Act 1977 and Criminal Justice (Drug Trafficking Offences) Act 1996;
Criminal Justice Act 2007.
Contact Us
Contact Us
LegalBooks.ie
Legal & General Shop
The Law Society Building
The Four Courts
Dublin 7
01 8725522
info@legalbooks.ie
D07 N972

VAT number: IE4814267p


Payment & Security
Your payment information is processed securely. We do not store credit card details nor have access to your credit card information.