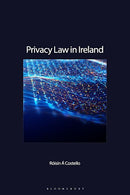 Description
Roisin Costello
ISBN13: 9781526524485
To be Published: August 2023
Format: Paperback


Provides an analysis of the origins, current sources, and character of privacy law in Ireland with a particular focus on how to navigate privacy claims and balance privacy with other interests before the Irish courts. It clarifies the relationship between private law protection of privacy rights in tort and statute, and constitutional conceptions of the right and compares how European Union and international law impacts on the privacy jurisprudence of the Irish courts.
Part One:
Addresses the sources of privacy rights in Ireland, with an account of how the right to privacy has been protected under the European Convention on Human Rights and the Charter of Fundamental Rights of the European Union, explaining the influence of the ECHR on privacy adjudication before the CJEU and outlining the trickle-down impact of the decisions of both courts on the secondary laws of the European Union, and national law in turn.
Part Two:
Considers spatial privacy, the first of the three 'genres' of privacy under which the Irish courts' decisions can be grouped. It provides an overview of the spaces of home, family, and sexual life, which the courts have found to be protected by a constitutional right to privacy, and looks at how these categories have expanded over time to also vindicate privacy rights in certain public settings.
Part Three:
Covers the courts decisions concerning informational privacy and deals with the rights to privacy concerning personal information and personal communications. It includes an examination of the various forms of confidentiality and privilege recognised as importing a privacy interest under Irish law, and the common law, statutory and constitutional protections on which those claims are based. It also covers the law governing privacy of communications in Ireland – an area of historical complexity and ongoing change given reforms to European data retention law, the pending decision in Dwyer v Commissioner of Garda Síochána, and corollary amendments to national legislation.
Subjects:
Irish Law, Privacy and Confidentiality
Contents:
INTRODUCTION
I. Origins of the Right to Privacy: An Eighteenth-Century Right?
a. Infringements of Personality Rights in French Law
b. Breach of Confidence and Common Law Privacy in English Law
c. The North American 'Discovery' of Privacy by Warren and Brandeis
II. The Emergence of Post-War Privacy Rights
a. The Right to Privacy in the Universal Declaration of Huma Rights
b. The European Convention on Human Rights
c. The Charter & Secondary Law
III. Distinguishing Between Private and Public Law Conceptions of Privacy
a. Constitutional and Tortious Conceptions
b. Statutory Privacy Protections
c. European Union Privacy Protections: Between Private and Public
IV. Contemporary Sources of Privacy Rights and Privacy Law
a. International Human Rights Law
b. National Constitutional Law
c. The Common Law
d. Statute Law
V. Scope and Structure of this Book
CHAPTER 1. THE RIGHT TO PRIVACY: CONTESTED DEFINITIONS
1.1 Introduction
1.2 Privacy: A Right or A Value
1.3 Theories of Privacy if the Decisions of the Irish Courts
1.3.1 Dignitarian Theories of Privacy
1.3.2 Autonomy Based Theories of Privacy
1.3.3 Control Based Theories of Privacy
1.4 Why value privacy
1.4.1 Deontological Ends
1.4.2 Consequentialist Ends
1.5 'Genres' of Privacy
1.5.1 Privacy, Data Protection, and Confidentiality Distinguished
1.5.2 Decisional privacy
1.5.3 Spatial privacy
1.5.4 Informational privacy
1.6 Conclusion
PART I – SOURCES OF PRIVACY RIGHTS IN IRISH LAW
CHAPTER 2. THE RIGHT TO PRIVACY UNDER THE ECHR
2.1 Introduction
2.2 Privacy Under Article 8 ECHR
2.2.1 Scope
2.2.2 Content
2.2.3 Defences & Balancing
2.2.4 Remedies
2.3 The Margin of Appreciation in Privacy Decisions Before the ECtHR
2.5 The Relationship Between Article 8 ECHR and the Charter of Fundamental Rights
2.6 Conclusion
CHAPTER 3 THE RIGHT TO PRIVACY IN EU LAW
3.1 Introduction
3.2 Privacy Under the Charter of Fundamental Rights
3.2.1 Article 7
3.2.1.1 Scope
3.2.1.2 Content
3.2.1.3 Defences & Balancing
3.2.1.4 Remedies
3.2.2 Article 8
3.2.2.1 Scope
3.2.2.2 Content
3.2.2.3 Defences & Balancing
3.2.2.4 Remedies
3.3 The relationship Between Articles 7 and 8
3.4 Deontological and Consequentialist Theories of Privacy in EU law
3.5 Genres of Privacy in EU law
3.6 Influence of the Charter on Secondary Law
3.6.1 Interpreting Secondary Law After Schrems II
3.7 Conclusion
CHAPTER 4. THE RIGHT TO PRIVACY UNDER THE IRISH CONSTITUTION
4.1 Introduction: Locating Privacy in the Text of the Constitution
4.2 The Emergence of a Right to Privacy in the Irish Constitution
4.2.1 The Recognition of a Privacy Right in McGee v Attorney General
4.2.2 An Expanded Right in Norris v Attorney General?
4.2.3 A Definitive Acknowledgement in Kennedy v Ireland
4.2.4 A Bundle of Rights? The Decision in EMI v DPC
4.3 Contested sources in the text
4.3.1 The Right to Privacy in Article 40.3 in McGee v Attorney General
4.3.2 The Right to Privacy in Article 40.5 in Schrems v DPC
4.3.3 The Inviolability of the Dwelling in Article 40.5: Privacy by Any Other Name?
4.4 Horizontal application
4.5 Defences
4.6 Balancing Privacy and Competing Rights
4.6.1 Competing Privacy Interests: O'T v B
4.6.2 Herrity, Cogley and the Competing Demands of Freedom of Expression
4.6.3 EMI v Data Protection Commissioner: Privacy and Intellectual Property at Odds
4.7 Remedies for Breach of Privacy
4.8 Conclusion
CHAPTER 5. THE RIGHT TO PRIVACY IN IRISH TORT LAW
5.1 Introduction
5.2 The Development of Privacy Torts in Common Law
5.2.1 Non-Tortious Privacy in English Common Law
5.2.2 Prosser's Delimitation of Privacy Torts in US Law
5.3 A Privacy Tort in Irish Law?
5.3.1 The Decision in Kennedy as Establishing a Tortious Action?
5.3.2 Distinguishing Privacy Torts from Torts Related to Privacy Interests
5.3.2.1 Torts Affecting Land and Goods
5.3.2.2 Torts Affecting the Person
5.3.2.3 Negligence and Breach of Statutory Duty
5.3.2.4 Breach of Privacy Actions
5.3.2.5 Misfeasance in Public Office
5.4 Distinguishing the Scope Tortious and Constitutional Privacy in Irish Law
5.4.1 Remedial Connections between Constitutional and Tortious Actions
5.4.2 Rights Balancing in Tortious and Constitutional Privacy Actions
5.5 Defences to Privacy Infringements in Tort Law
5.6 Remedies for Breaches of Tortious Privacy
5.7 Conclusion
PART II - SPATIAL PRIVACY
CHAPTER 6. FAMILIAL AND SEXUAL PRIVACY
6.1 Introduction
6.2 The Origins of Privacy in Family Settings
6.3 Conceptions of Privacy Based on Family in Irish Law
6.3.1 The Marital Family
6.3.2 The Restrictive Scope of Marital Privacy
6.3.3 Extensions of Sexual Privacy Beyond Martial Contexts
6.4 Modern Conceptions of Sexual and Familial Privacy
6.4.1 The Decision in O'T v B
6.4.2 The Decisions in Zappone v Revenue Commissioners and Foy v An tArd Chláraitheoir
6.4.3 The Decisions in X v Flynn and Others and Maguire v Drury
6.4.4 The Decision in McG v F – a Closely Defined Private Sphere
6.5 Vindicating Sexual Privacy Beyond the Constitution
6.5.1 Criminalising Breaches of Sexual Privacy: The Harassment, Harmful Communications, and Related Offences Act 2020
6.6 Conclusion
CHAPTER 7. PRIVACY OF THE HOME
7.1 Introduction
7.2 Recognition of a Private, Domestic Sphere in Privacy Law
7.2.1 Western Conceptions of Home
7.2.2 Common Law Protections of the Dwelling
7.3 Tripartite Protections of Home, Person, and Papers in Privacy Law
7.4 Defining the Private and Home in European Law
7.4.1 Privacy and Definitions of Home under the ECHR
7.4.2 Privacy and Definitions of Home under the Charter of Fundamental Rights
7.5 The Private Space of Home in Irish Law
7.5.1 Article 40.5 and the Inviolability of the Dwelling
7.5.2 The Decision in Atherton v Director of Public Prosecutions
7.6 Conclusion
CHAPTER 8. PRIVACY IN PUBLIC SPACES
8.1 Introduction
8.2 Limiting Privacy in Public Places
8.2.1 Expectations of Privacy in Public Spaces
8.2.2 Privacy Behind Only Certain Bedroom Doors? The Decision in DPP v Cash
8.2.3 Activities in Public – The Decision in Wilson v Farrell, and Cogley v Aherne
8.3 Peninsulas of Privacy in Public
8.3.1 The Decision in Hickey v Sunday Newspapers Ltd
8.3.2 The Decision in Mulligan v Governor of Portlaoise Prison
8.4 Surveillance in Public Spaces: Kane v Governor of Mountjoy Prison
8.5 Tribunals and Privacy in Processes of Public Processes of Inquiry
8.5.1 The Decisions in Haughey v Moriarty and Redmond v Flood
8.5.2 The Decision in HSE v A
7.6 Conclusion
PART III - INFORMATIONAL PRIVACYCHAPTER 9 INFORMATIONAL PRIVACY
CHAPTER 9.
9.1 Introduction
9.2 Confidentiality, Privilege and Privacy: Disentangling Related Concepts
9.2.1 Medical Confidentiality
9.2.2 Cabinet Confidentiality
9.2.2 Legal Privilege
9.2.3 Journalistic Privilege
9.2.4 Dáil Privilege under Article 15.10
9.2.5 Official Secrets Act 1963 – Privacy, Privilege or Power?
9.3 Recognitions of Informational Privacy
9.3.1 Emergence of Informational Privacy
9.3.2 OECD Recommendations & The Council of Europe Convention
9.3.3 The Emergence of Data Protection Laws in the EU
9.4 Types of Informational Privacy
9.5 Rights to Anonymity and Erasure in Privacy Law
9.6 Modern Data Protection and Informational Privacy Rights
9.6.1 Statutory Privacy of Information in Irish Law
9.6.2 The Data Protection Acts
9.6 Conclusion
CHAPTER 10. COMMUNICATIONS PRIVACY
10.1 Introduction
10.2 Information and Communications Privacy – Distinctions and Commonalities
10.3 Data Retention and Communications Surveillance in Irish Law
10.3.1 Formal Mechanisms – Statutory Retention and Interception of Communications
10.3.2 Informal Mechanisms - Voluntary Retention and Disclosure of Communications by Private Actors
10.3.2.1 An Informal State Action Doctrine? The Limits of Communications Privacy in Irish Law
10.4 Privacy Within and Without – Protecting Citizens from Foreign Surveillance
10.4.1 The Decisions in Schrems I and Schrems II
10.5 The Tensions between Communications Data and Privacy Rights
10.5.1 The Murray Report
10.5.2 The Decision in Digital Rights Ireland
10.5.3 The Decisions in Dwyer v Commissioner of An Garda Síochána
10.6 Conclusion
Contact Us
Contact Us
LegalBooks.ie
Legal & General Shop
The Law Society Building
The Four Courts
Dublin 7
01 8725522
info@legalbooks.ie
D07 N972

VAT number: IE4814267p


Payment & Security
Your payment information is processed securely. We do not store credit card details nor have access to your credit card information.