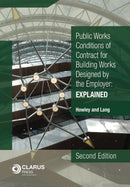 Description
Authors: James Howley & Martin Lang
ISBN: 978-1-911611-03-5
Format: Paper Back
Publication Date: 22 Feb 2018
The introduction of the new Public Works Contracts in 2007 brought significant change to the construction industry and influenced how construction would operate on public construction projects. The objective of the new Public Works Contracts was to secure a public procurement system that would provide certainty with regards to time for delivery of construction projects and certainty of cost. The Public Works Contracts incorporated international trends in the procurement and execution of public construction projects. Contractors had to adapt to the changes to be aware of the significant transfer of risk to Contractors and the obligations for contract compliance in order to maintain entitlements.
Since 2008 when the first edition of Public Works  Contract for Building Works Designed by the Employer published, there has been further significant changes have been made to the Public Works Contracts. This new second edition is based on the Public Works Contract for Building Works Designed by the Employer (June 2016).
This new edition expands on and explains each contract clause in a clear and easy to understand manner to allow the reader to develop an insight into how these contracts operated. Public Works Conditions of Contract for Building Works Designed by the Employer, Second Edition also included sample documents including notices and letters which will add to the readers understanding of the strict and critical administrative procedures demanded by these contracts.
Contents include
-Introduction
-Tender and Schedule
-The Agreement
-Conditions
-The Contract
-The Law
-Loss, Damage And Injury
-Management
-Contractor's Personnel
-Property
-The Site
-Quality, Testing and Defects
-Time And Completion
-Claims And Adjustments
-Payment
-Termination
-Disputes
-Schedule
-Public Works Contract Model Forms
-Sample Letters from the Contractors to the Employer's Representative
About the Authors
James Howley MSc, Dip Arb, Dip Proj Mgmt, MRICS, FCIOB, FCIArb., Chartered Arbitrator, Chartered Surveyor, Accredited Adjudicator, CIArb Accredited Mediator has over 40 years experience in the construction industry.
Martin Lang is a Member of the Chartered Institute of Arbitrators, Chartered Institute Accredited Mediator and is an Engineers Ireland Assessed Conciliator. He has been involved in the construction industry for the last 40 years. Martin began his career as an Estimator and trained as a Quantity Surveyor in Dublin. He has had an extensive career in Project and Construction Management in the United Kingdom, Spain, Portugal, the Middle East and West Africa. He joined the Construction Industry Federation in 1995 as an Executive Officer , became Head of Contracts and Dispute Resolution and is now Director of Main Contracting.
He has acted as Mediator and Conciliator in over 200 construction related disputes as well as being involved in the development of national training programmes and advice services in relation to pre-tender, pre-qualification issues, contract documents, claims management dispute resolution, public sector procurement etc.
He is a practicing Mediator and Conciliator.
Contact Us
Contact Us
LegalBooks.ie
Legal & General Shop
The Law Society Building
The Four Courts
Dublin 7
01 8725522
info@legalbooks.ie
D07 N972

VAT number: IE4814267p


Payment & Security
Your payment information is processed securely. We do not store credit card details nor have access to your credit card information.