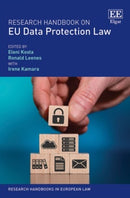 Description
Edited by: Eleni Kosta, Ronald Leenes, Irene Kamara
Series: Research Handbooks in European Law series
Format: Hardback 672 pages
Publisher: Edward Elgar Publishing Ltd
Imprint: Edward Elgar Publishing Ltd
ISBN: 9781800371675
Published: 22 Apr 2022
Bringing together leading European scholars, this thought-provoking Research Handbook provides a state-of-the-art overview of the scope of research and current thinking in the area of European data protection. Offering critical insights on prominent strands of research, it examines key challenges and potential solutions in the field. Chapters explore the fundamental right to personal data protection, government-to-business data sharing, data protection as performance-based regulation, privacy and marketing in data-driven business models, data protection and judicial automation, and the role of consent in an algorithmic society.
Expert contributors investigate the impact of Brexit on the right to data portability, essential equivalence as a benchmark for international data transfers following Schrems II, and data protection in relation to the application and boundaries of the Law Enforcement Directive, trade secret privileges, and competition law. Comprehensive, yet accessible, the Research Handbook on EU Data Protection Law will be a valuable resource for students and scholars of technology and data protection law, privacy law, and European law more broadly, while also being a useful tool for practitioners and policymakers concerned with data protection.
Contact Us
Contact Us
LegalBooks.ie
Legal & General Shop
The Law Society Building
The Four Courts
Dublin 7
01 8725522
info@legalbooks.ie
D07 N972

VAT number: IE4814267p


Payment & Security
Your payment information is processed securely. We do not store credit card details nor have access to your credit card information.