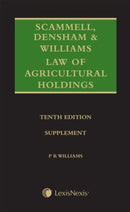 Description
This definitive text provides practical analysis of the law of agricultural holdings in an authoritative and accessible manner. Scammell continues to be a practitioners' manual, for lawyers, rural chartered surveyors and others. The approach to the Supplement has been, not only to bring the law up to date, but to add further commentary to assist the practitioner.

Key highlights of the supplement include:* Developments in relation to the issue of licences. * Whether a tenant can force a landlord to erect a new slurry store under the Agricultural Holdings Act 1986. * Developments in relation to partnership property.

* A rare case relating to sporting rights. * Clarifying rent review procedures under the AHA 1986. * Addressing the issue as to whether a notice to quit can be withdrawn and further commentary concerning notices to quit given without prejudice and subject to contract.

* The requirements as regards the form of a notice to remedy. * A raft of Tribunal cases relating to certificates of bad husbandry. * Further issues in relation to the recovery of possession of land for non-agricultural use under the AHA 1986.

* The relevant date for qualifying for the principal livelihood test after a retirement notice seeking succession. * Changes in the statutory list of short term improvements under the AHA 1986. * Numerous important cases relating to issues concerning the service of notices.

* Developments in relation to estoppel, including estoppel by convention, affecting rural property. * Numerous arbitration decisions and more practical points. * Developments in respect of expert determination.

* Changes to European law, continuing to affect landlord and tenant arrangements, as well as two cases of judicial review of DEFRA decisions.
Contact Us
Contact Us
LegalBooks.ie
Legal & General Shop
The Law Society Building
The Four Courts
Dublin 7
01 8725522
info@legalbooks.ie
D07 N972

VAT number: IE4814267p


Payment & Security
Your payment information is processed securely. We do not store credit card details nor have access to your credit card information.