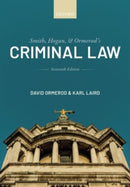 Description
Author: QC David (Professor of Criminal Justice at University College London) Ormerod CBE, Karl Laird
Format: Paperback / softback 1224 pages
Publisher: Oxford University Press
Imprint: Oxford University Press
Edition: 16th Revised edition
ISBN: 9780198849704
Published: 12 Jul 2021
Smith, Hogan, & Ormerod's Criminal Law is rightly regarded as the leading doctrinal textbook on criminal law in England and Wales. The book owes its consistent popularity to its depth of analysis, breadth of coverage, and accessible style. Over fifty years since the publication of the first edition, Professor David Ormerod and Karl Laird continue the tradition set down by Professors Sir John Smith and Brian Hogan by producing a textbook of unrivalled quality. 
The text continues to be an invaluable resource for undergraduate students and an essential reference source for criminal law practitioners. Digital formats and resources. The sixteenth edition is available for students and institutions to purchase in a variety of formats, and is supported by online resources. The e-book offers a mobile experience and convenient access along with functionality tools, navigation features and links that offer extra learning support: www.oxfordtextbooks.co.uk/ebooks A selection of online resources accompany this text, including: - A selection of additional online chapters - A full bibliography arranged alphabetically and by chapter- Annual updates
Contact Us
Contact Us
LegalBooks.ie
Legal & General Shop
The Law Society Building
The Four Courts
Dublin 7
01 8725522
info@legalbooks.ie
D07 N972

VAT number: IE4814267p


Payment & Security
Your payment information is processed securely. We do not store credit card details nor have access to your credit card information.