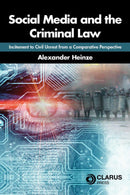 Description
Product Description
Author: Alexander Heinze
ISBN: 9781911611004
Publication Date: not printed yet
PRICE NOT AVAILABLE UNTIL THE BOOK IS PUBLISHED

About
The emergence of social media has opened new channels of mass communication and expression. It is possible to reach an unlimited audience with the click of a mouse or the use of a smartphone. However, due to the anonymity that social media affords, it has opened new avenues for perpetrators to threaten, intimidate and incite. Social Media and the Criminal Law will make a cross-jurisdictional assessment as to whether the existing law is adequate for dealing with criminal conduct committed on social media sites in a manner that is compatible with human rights legislation and case law. After defining the social media landscape, it both describes and analyses how social media expression was translated into criminal litigation. Since there is no social media law, the author assesses how, in selected Common and Civil law jurisdictions, laws traditionally governing particular types of expressive activity have converged in relation to criminal activity such as threats, hate speech, harassment, bullying, defamation, indecent images of children and terrorism.

This books main focus is social media expression that plans and incites crimes, civil unrest and violent public protest and how this expression receives constitutional or human rights protection. Do human rights instruments protect peoples messages, tweets, and Facebook posts that encourage an audience to protest? Can social media activity expose the average person to criminal liability when these protests turn violent? In an age where existing law can be seamlessly applied to new technologies and means of interaction, this books comparative law approach to criminal activity on social media provides a much-needed analysis.

Contact Us
Contact Us
LegalBooks.ie
Legal & General Shop
The Law Society Building
The Four Courts
Dublin 7
01 8725522
info@legalbooks.ie
D07 N972

VAT number: IE4814267p


Payment & Security
Your payment information is processed securely. We do not store credit card details nor have access to your credit card information.