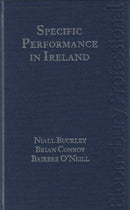 Description
Niall Buckley, Brian Conroy, Bairbre O'Neill

ISBN13: 9781847663818
Published: August 2012
Publisher: Bloomsbury Professional (Ireland)
Country of Publication: Ireland
Format: Hardback
s.
This new title will deal with the Irish development of the equitable doctrine of specific performance with particular focus on issues such as procedure, defences, subject to contract, part performance and the application of the doctrine to specific types of contract.


Contents:
1. The Nature of Specific Performance
2. The Contractual Context of the Remedy
3. Defences to the Action and Discretionary Reasons for Refusal of Relief
4. Statue of Frauds and Subject to Contract
5. Part Performance
6. Contracts for Interests in Land
7. Specific Performance of Contracts with other Subject Matters
8. Other Remedies Similar to Specific Performance
9. Specific Performance and Third Parties
10. Damages and Money Claims
11. Procedure.
Contact Us
Contact Us
LegalBooks.ie
Legal & General Shop
The Law Society Building
The Four Courts
Dublin 7
01 8725522
info@legalbooks.ie
D07 N972

VAT number: IE4814267p


Payment & Security
Your payment information is processed securely. We do not store credit card details nor have access to your credit card information.