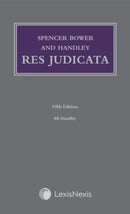 Description
The most authoritative and comprehensive book available on the limitations imposed by the doctrine of Res Judicata. Part One deals with res judicata estoppel in its three forms: cause of action estoppel, issue estoppel and the binding force of a judgment when it is the foundation of a new action. The application of these principles in specific areas of the law and the plea of autrefois acquit in criminal cases are then considered.

A chapter deals with affirmative answers. Part Two deals with merger in judgment including its application in criminal cases under the plea of autrefois convict. Each Part concludes with a chapter on procedure.

The final chapters deal with the extended doctrine of res judicata based on abuse of process and the doctrine of res judicata in Roman law. This edition includes coverage of significant case law including cases from Hong Kong, Malaysia, Singapore and South Africa. There is also commentary on EU legislation including the Insolvency Regulation (1346/2000) dealing with the jurisdiction and recognition of judgments in insolvency proceedings, Council Regulation No 44/2001 on jurisdiction and the recognition and enforcement of judgments in civil and commercial matters, and Council Regulation No 2201/2003 concerning jurisdiction and the recognition and enforcement of judgments in matrimonial proceedings.
Contact Us
Contact Us
LegalBooks.ie
Legal & General Shop
The Law Society Building
The Four Courts
Dublin 7
01 8725522
info@legalbooks.ie
D07 N972

VAT number: IE4814267p


Payment & Security
Your payment information is processed securely. We do not store credit card details nor have access to your credit card information.