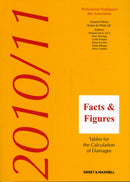 Description
Facts and Figures : Tables for the Calculation of Damages

Replaced By: 9780414047730

Format: Paperback 392 pages
Publisher  Sweet & Maxwell Ltd
Imprint: Sweet & Maxwell
Edition: Rev ed
ISBN:9780414042353
Published:24 Aug 2010
Classifications: England, Wales, Civil remedies
Readership: Professional & Vocational
Weight:910g
Dimensions:295 x 196 x 20 (mm)
Firm Sale: Yes

Pub. Country: United Kingdom

Description
The authoritative text on banking litigation containing an essential collection of materials by leading practitioners. An insightful and analytical approach to key topics including lending and security, payment, conflicts of law, and regulatory and procedural issues.

Contact Us
Contact Us
LegalBooks.ie
Legal & General Shop
The Law Society Building
The Four Courts
Dublin 7
01 8725522
info@legalbooks.ie
D07 N972

VAT number: IE4814267p


Payment & Security
Your payment information is processed securely. We do not store credit card details nor have access to your credit card information.