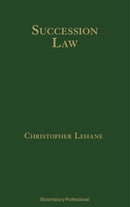 Description
Author: Christopher Lehane
Expected Publishing date: 31-03-2022
Format:Hardback
ISBN: 9781526522245
Succession law is the law governing the devolution of property on the death of its owner. This new book provides peerless analysis of this branch of law with extensive cross-referencing to related issues such as tax, conveyancing, family law, enduring powers of attorney, limitation of actions, estate accounts, private international law and trusts.It provides the reader with in-depth coverage of key Irish judgments, statutes, court rule provisions and Court and Probate Officer practice directions. The coverage is supplemented with Court Rule prescribed forms and many non-prescribed drafted forms, titles to grants of representation and checklists, which all readers will find invaluable aids to understanding and applying succession law in practice.This highly practical book includes a chapter on will drafting and estate planning and provides 10 precedent templates covering most testator requirements.
The book's appendices, too, contain a wealth of practical information such as:
* Draft precedent titles for grants of representation.
*Template proceedings, wills, forms and letters.
*Practitioner, testator and legal personal representative checklists.
*Unique genealogical kinship tracing diagram and table.
*Probate system process maps.
* Superior Court, Land Registry and Registry of Deed Rules and forms.
* Non-prescribed Forms.
* Sample High Court contentious probate summonses.
* Law Society guidelines for solicitors drafting wills and dealing with vulnerable clients.
* Practitioner guidance on costs.
TABLE OF CONTENTS
CHAPTER 1 - Succession legislation and Court Rules
CHAPTER 2 - Wills
CHAPTER 3 - Intestacy
CHAPTER 4 - Legal Personal Representatives: Executors and Administrators
CHAPTER 5 - Grants of Representation
CHAPTER 6 - Probate Office and District Probate Registry Proceedings
CHAPTER 7 - Court Proceedings in Probate matters
CHAPTER 8 - Spouse and Children Rights against Disinheritance and related matters
CHAPTER 9 - Law relating to Legacies, Bequests and Devises
CHAPTER 10 - Administration of Assets
CHAPTER 11 - Tax
CHAPTER 12 - Trusts
CHAPTER 13 - Registering Title on death
CHAPTER 14 - Wills and estate planning
CHAPTER 15 - Conflict of Laws
CHAPTER 16 - Limitation of Actions
CHAPTER 17 - Enduring powers of attorney
CHAPTER 18 - Administration Accounts
Appendices
Contact Us
Contact Us
LegalBooks.ie
Legal & General Shop
The Law Society Building
The Four Courts
Dublin 7
01 8725522
info@legalbooks.ie
D07 N972

VAT number: IE4814267p


Payment & Security
Your payment information is processed securely. We do not store credit card details nor have access to your credit card information.