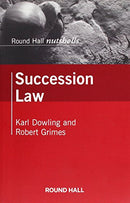 Description
Succession Law Author : Karl DowlingAuthor : Robert GrimesPublisher: Round HallPublication Date: 04/09/2013ISBN: 9780414031470Jurisdiction: Ireland
*Both an ideal revision tool and introductory text
*Provides a concise and accessible review of the key principles, concepts and cases
*Written with a busy student in mind, perfect for exam preperation with brief, clear explanations of all the main topics relating to Succesion Law.
*It covers Wils; Capacity; Devises and Bequests; Legal Rightsof Spouses and Civil Partners; Rights of Children; Rights on Intestacy; Grant of Probate; Grants of PRobate when Will annexed; Grants of Adminsitration Intestate; Other Grants; Estates with a Foreign Element; Non Contentious litigation in the High Court; Caveats, Warnings, Appearance & Citations; Disclaimers, Deeds of Family Arrangement & Variation of Trusts

About The Authors
Karl Dowling is a practising barrister specialising in wills and succession, the administration of estates, contentious and non-contentious probate litigation and trust issues. He is Committee Member of the Society of Trust and Estate Practitioners (STEP) Ireland and has written extensively for Thomson Round Hall.

Robert Grimes is a practising barrister in the area of Succession Law. He holds a B.Comm and also worked for an International Asset Management Firm for several years prior to commencing his legal practice.
Contact Us
Contact Us
LegalBooks.ie
Legal & General Shop
The Law Society Building
The Four Courts
Dublin 7
01 8725522
info@legalbooks.ie
D07 N972

VAT number: IE4814267p


Payment & Security
Your payment information is processed securely. We do not store credit card details nor have access to your credit card information.