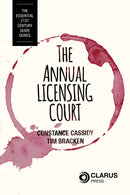 Description
Author: Constance Cassidy and Tim Bracken :
Publication Date: 13 July 2017
"This is a great little book …. No publican should be without it."
Charles Chawke, Publican
About
The Annual Licensing Court: The Essential 21st Century Guide is a concise guide on the rules, regulations and procedures in relation to the granting and renewal of liquor licensing at the annual licensing court. This book presents, explains and consolidates the relevant applications, orders, form and rules.
If you're in the drinks business, you need this really useful new guide on the annual renewal of drinks licences. Your questions are answered in a direct and straightforward way by leading experts Constance Cassidy & Tim Bracken.
This guide is everyman's explanation of the regulatory requirements which apply to the renewal and transfer of alcohol and entertainment licences. The guide is a must for owners and managers in the drinks industry, including:
Publicans
Hoteliers
Restaurateurs
Supermarkets
Off Licences,
Night Clubs
Theatres
Clubs
This guide is not just for those in the drinks industry, lawyers, the Gardaí, Revenue, but is also aimed at the general public, for the person who needs to know how and when they can apply for or object to the renewal or transfer of a licence.
If you are an owner or operator in the drinks industry, this is your essential guide.

Contents Include
PART I GENERAL
Chapter 1 Introduction
Chapter 2 Jurisdiction of Annual Licensing District Court
Chapter 3 Annual Licensing District Court: Relevant Licences, Certificates, Orders

PART II ANNUAL LICENSING DISTRICT COURT: COURT APPLICATIONS
Chapter 4 Licenses
Chapter 5 Certificate of Transfer
Chapter 6 Other Licences

PART III OBJECTIONS
Chapter 7 Objection to the Renewal of Intoxicating Liquor Licence
Chapter 8 Objection to Renewal of Other Licences, Certificates, Orders

PART IV ADJOURNMENTS AND NOTICE PARTIES
Chapter 9 Adjournment of the Annual Licensing Sessions
Chapter 10 The Fire Officer
Chapter 11 An Garda Síochána
PART V FORMS
District Court Rules 1997: Order 81
Objection to Intoxicating Liquor Licence
Application for Certificate of Transfer of Intoxicating Liquor Licence
Application for Renewal of Public Dance Licence
Application for Renewal of Public Music and Singing Licence
Application for Renewal of Restaurant Certificate
Application for Renewal of Certificate of Registration for Registered Club
Application for Renewal of General Exemption Order
Application for Grant of Gaming Licence
Application for Grant of Lottery Licence
About the Authors
Constance Cassidy, SC, is the leading legal expert on licensing law in Ireland and author of several books on the same subject.
Tim Bracken is a Barrister-at-Law and author of several legal text books.
Contact Us
Contact Us
LegalBooks.ie
Legal & General Shop
The Law Society Building
The Four Courts
Dublin 7
01 8725522
info@legalbooks.ie
D07 N972

VAT number: IE4814267p


Payment & Security
Your payment information is processed securely. We do not store credit card details nor have access to your credit card information.