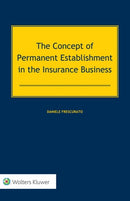 Description
By: Daniele Frescurato
ISBN: 9789403532837
Published:22 Apr 2021
The Concept of Permanent Establishment in the Insurance Business is a trailblazing book focusing on the issues that the insurance companies encounter concerning a permanent establishment, providing an in-depth analysis of how the concept is applied in the context of the insurance industry and further considering potential changes to the permanent establishment definition contained in tax treaties to reflect specific features of this industry. The models commonly used to negotiate bilateral tax treaties say very little about the insurance industry and how the dependent agent permanent establishment provision may affect cross-border marketing, promotion, and insurance distribution.
What's in this book:
The study furnishes an analytical framework of the insurance industry (particularly, its regulatory landscape and value chain) and advances to discuss the following aspects systematically:
-       comprehensive analysis of the dependent agent permanent establishment provision as laid down in model tax treaties and related commentaries;
-       assessment of the existence of a dependent agent permanent establishment in the context of the most common business models adopted by insurance companies; and
-       comparative analysis of double tax treaty policies adopted in several countries for the permanent establishment provision in the insurance business, highlighting Switzerland for comparative purposes.
The author concludes by proposing changes to the definition of the dependent agent permanent establishment currently enshrined in the model treaties and their respective commentaries tailored to how insurance companies conduct their business in countries other than incorporation.
How this will help you:
As a pivotal and pertinent contribution to the study of the interplay between insurance regulation and tax implications, this very original work will prove especially valuable to practitioners in international tax and insurance law, professionals in the financial services sector, and tax academics.
 Table Of Contents:
About the Author
Preface
List of Abbreviations
CHAPTER 1
Preliminary Remarks
CHAPTER 2
Overview of the Insurance Business
CHAPTER 3
Analysis of the Double Tax Treaty Law
CHAPTER 4
Analysis of the Insurance Business Models
CHAPTER 5
Analysis of the Swiss Double Tax Treaty Policy
CHAPTER 6
Assessment of the Existing Rules and Reform Proposals
CHAPTER 7
Concluding Remarks
Bibliography
Index
Disclaimer: This title is in pre-production and any names, credits or associations are subject to change. The current table of contents and subject matter is for pre-release sample purposes only.
Contact Us
Contact Us
LegalBooks.ie
Legal & General Shop
The Law Society Building
The Four Courts
Dublin 7
01 8725522
info@legalbooks.ie
D07 N972

VAT number: IE4814267p


Payment & Security
Your payment information is processed securely. We do not store credit card details nor have access to your credit card information.