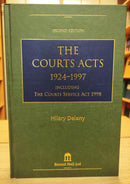 Description
Author: Hilary Delany (Author)
Format: Hardback 609 pages
Publisher: Round Hall Ltd
Edition: 2 ed
ISBN: 9781858001616
Published: 1 Dec 1999
This text is a thorough explanation of all the legislation dealing with the structure and jurisdiction of the courts currently in force. It has been thoroughly revised and expanded and all legislation is examined in chronological order. An updated version of the text of each Act which remains unrepealed is set out showing increases in the jurisdictional limits of the various courts.
Section-by-section commentary explains the effect of amending provisions and examines case law relevant to the interpretation of the legislation.
Contact Us
Contact Us
LegalBooks.ie
Legal & General Shop
The Law Society Building
The Four Courts
Dublin 7
01 8725522
info@legalbooks.ie
Payment & Security
Your payment information is processed securely. We do not store credit card details nor have access to your credit card information.