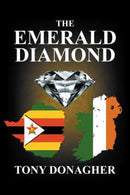 Description
Solicitor Richard Jennings think is it is just another ordinary day when he shows up at the Criminal Courts of Justice in Dublin to cover for an associate on leave. Unfortunately, he could not be more wrong. After he settles into his seat in the court and notices a heavy security presence, a Zimbabwean man who has been accused of murdering Father Patrick O'Meara two nights earlier is led into the room in handcuffs. Moments later, Stephen Moyo chooses a very surprised Jennings to represent him. What everyone is about to learn is that Moyo knows Jennings because he is one who prosecuted Father O'Meara in the former Rhodesia years earlier for assisting terrorism. As the reason for the murder of the priest and the involvement of the Zimbabweans is eventually revealed, it leads to the discovery of a valuable diamond smuggled from Zimbabwe. Now it is up to Jennings and an Irish detective to determine if Moyo is guilty or innocent—and, if so, who committed the heinous crime. In this legal thriller, a solicitor is propelled into the midst of a complex case after he is chosen to represent a Zimbabwean man accused of murdering a priest.
Contact Us
Contact Us
LegalBooks.ie
Legal & General Shop
The Law Society Building
The Four Courts
Dublin 7
01 8725522
info@legalbooks.ie
D07 N972

VAT number: IE4814267p


Payment & Security
Your payment information is processed securely. We do not store credit card details nor have access to your credit card information.