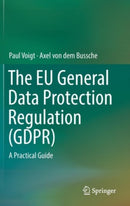 Description
Author: Paul Voigt, Axel Von Dem Bussche
Format: Hardback 383 pages, IX, 383 p.
Publisher: Springer International Publishing AG
Edition: 1st ed. 2017
ISBN: 9783319579580
Published: 28 Aug 2017
This book provides expert advice on the practical implementation of the European Union's General Data Protection Regulation (GDPR) and systematically analyses its various provisions. Examples, tables, a checklist etc. showcase the practical consequences of the new legislation.
The handbook examines the GDPR's scope of application, the organizational and material requirements for data protection, the rights of data subjects, the role of the Supervisory Authorities, enforcement and fines under the GDPR, and national particularities. In addition, it supplies a brief outlook on the legal consequences for seminal data processing areas, such as Cloud Computing, Big Data and the Internet of Things.Adopted in 2016, the General Data Protection Regulation will come into force in May 2018. It provides for numerous new and intensified data protection obligations, as well as a significant increase in fines (up to 20 million euros).
As a result, not only companies located within the European Union will have to change their approach to data security; due to the GDPR's broad, transnational scope of application, it will affect numerous companies worldwide.
Contact Us
Contact Us
LegalBooks.ie
Legal & General Shop
The Law Society Building
The Four Courts
Dublin 7
01 8725522
info@legalbooks.ie
D07 N972

VAT number: IE4814267p


Payment & Security
Your payment information is processed securely. We do not store credit card details nor have access to your credit card information.