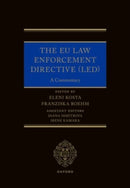 Description
Format: Hardback 944 pages
Publisher: Oxford University Press
ISBN: 9780192855220
Published: 11 Jan 2024
The Law Enforcement Directive 2016/680 (LED) is the first legal instrument in the EU which comprehensively regulates the use of personal data by law enforcement authorities, creating a minimum standard of privacy protection across the EU. Together with the General Data Protection Regulation (GDPR), it stands at the heart of the legal reform of the EU's data protection law. Although it was adopted at the same time as the GDPR, the LED has not received the same scholarly attention, despite its significant impact and controversial implementation in Member States.
The EU Law Enforcement Directive (LED): A Commentary addresses this by providing an article-by-article commentary on the Directive. Drawing on the expertise of leading scholars, regulators, and practitioners in the EU data protection field, it offers a detailed analysis of its legal provisions, drawing on relevant case law and scholarship to illuminate the key aspects and intricacies of each provision. It analyses national transpositions of the LED while taking into account the GDPR and the regulations on the processing of personal data by EU institutions, bodies, offices and agencies.
For further context, it includes introductory chapters on the background and evolution of the Directive, the Council of Europe, and the impact of Brexit on the LED. This comprehensive volume is an excellent resource for anyone seeking authoritative guidance on the application and interpretation of LED provisions, especially judges, legal practitioners, prosecutors, competent authorities, and academics.
Contact Us
Contact Us
LegalBooks.ie
Legal & General Shop
The Law Society Building
The Four Courts
Dublin 7
01 8725522
info@legalbooks.ie
D07 N972

VAT number: IE4814267p


Payment & Security
Your payment information is processed securely. We do not store credit card details nor have access to your credit card information.