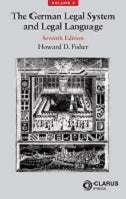 Description
By Howard D Fisher (Author)
Format: Paperback / softback 850 pages
Publisher: Clarus Press Ltd
Imprint: Clarus Press Ltd
Edition: 7 ed
ISBN: 9781911611547
Published: 30 Apr 2021
The 7th edition of the German Legal System and Legal Language has undergone substantial revision throughout and there has been much amendment and reorganization since publication of the 6th edition. Among the many changes in the 7th edition are the following:
* New two-volume format;
* Three new chapters: (i) family law and law of succession (ii) procedure in family matters and (iii) international law, domestic law and foreign relations;
* Focus on fundamental constitutional concepts, with new exposes on the arrangement of law in codes, features of the German state, law and its relation to the state and the structure of government in the UK;
* New expose on the constitutional right of general freedom of action and the general right of personality;* Discussion of the character of rules of law;
* In the chapter on the Civil Code (BGB), new exposes on topics such as; the principle of good faith; the object, place and time of performance; the concept of "loss"; assignment; contracts of sale; contracts for services; transaction of other people's affairs without prior authority; contracts of surety; tort; the different types of possession; and the protection of possession and ownership
* Clearer explanation of essential terminology used in German commercial law;
* The different types of mercantile agent and the pitfalls of a general power of attorney
* "Silent" partnerships;
* New expose on the commissioner;
* New expose on the duty of loyalty between members of a company;
* New exposes on establishment of the facts and the burden of proof in civil proceedings;
* The German rules regarding arbitration;
* New expose on immediate protective measures in administrative law;
* Judicial review of administrative action and enforcement of administrative acts;* Overview of attempt, self-defence and capacity in criminal law;
* New expose on arrest warrants and investigative custody;
* Consideration of the fair trial principle and the evidence stage in criminal proceedings
* Discussion of shipping documents (bills of lading) and methods of payment (letters of credit) in international trade;
* Expanded chapter on private international law, with a new expose on selection of legal venue.
Contact Us
Contact Us
LegalBooks.ie
Legal & General Shop
The Law Society Building
The Four Courts
Dublin 7
01 8725522
info@legalbooks.ie
D07 N972

VAT number: IE4814267p


Payment & Security
Your payment information is processed securely. We do not store credit card details nor have access to your credit card information.