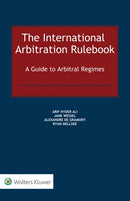 Description
By: Arif Hyder Ali, Jane Wessel, Alexandre de Gramont, Ryan Mellske
ISBN: 9789041138149
Published: 24 Oct 2019
The International Arbitration Rulebook is a comprehensive, descriptive and analytical "road map" to international commercial and investment arbitration rules. Numerous arbitral regimes around the world differ in subtle yet complex ways. These variations can have a profound effect on the procedural rights and obligations of the parties. Broadly speaking, the choice of regime will impact the way in which an arbitration is conducted; its duration and expense; the outcome of the dispute; and the ultimate enforceability of the award. To inform the parties' choice, this book is the first to deal specifically and in depth with a broad range of institutional and ad hoc arbitration rules on a comparative basis. It provides a practical guide to the rules in one book from a distinctly "rule" and "guide" point of view.
What's in this book:
This book has its genesis in the authors' experience as practitioners and educators in international commercial and investor-state arbitration and as advisers to, and trainers for, arbitral institutions, arbitrators, judges and government officials around the world. This book covers the broad range of issues addressed in nine representative major sets of arbitration rules. The authors detail the distinct ways in which rules governing such important issues as the following may differ among the various arbitral regimes:
-       governance structure and role of the administering institutions in the arbitration, including case management and administrative support;
-       critical and recommended issues to be established in the agreement to arbitrate, such as the place of arbitration and the governing law among others;
-       requirements and the best practices for starting arbitration on the right foot;
-       procedures for selecting, appointing and challenging arbitrators;
-       impact of the initial procedural conference on the proceedings;
-       rules on presenting the case in chief: written submissions, documentary evidence, witness and expert testimony and more;
-       costs and fees of leading institutions;
-       procedures and standards for award scrutiny and enforceability; and
-       a range of special and innovative procedures such as expedited proceedings, interim relief and consolidation of proceedings.
This book serves to plug the gap between the treatises that exist on one particular institution and supported by rule comparison tables and clear explanations of each step of the process that provide no more than a starting point for insight into what the differences between those rules mean in reality or how the rules are applied in practice.
How this will help you:
With this eminently practical book, contract negotiators, counsel and arbitrators can confidently navigate any international arbitration. Thorough coverage of the applicable rules and guidelines enables parties and/or the tribunal to design bespoke arbitration procedures based upon the various rules of leading regimes. Arbitral institutions can survey the different approaches and identify emerging best practices in the designing and drafting of arbitral regimes. Designed to cover the broad range of issues that are addressed in arbitration rules in a straightforward, practical style, this book will be a valuable resource for practitioners and students alike, both those who are new to arbitration and those with considerable knowledge and experience.
Table Of Contents:
Preface
List of Abbreviations
Acknowledgements
CHAPTER 1
Overview of Arbitral Institutions and Regimes
CHAPTER 2
Agreements to Arbitrate
CHAPTER 3
Commencement of the Arbitration
CHAPTER 4
The Arbitral Tribunal
CHAPTER 5
Initial Procedural Conference
CHAPTER 6
Evidentiary Procedure
CHAPTER 7
Written and Oral Proceedings
CHAPTER 8
Costs and Fees
CHAPTER 9
The Award: Form, Effect, and Enforceability
CHAPTER 10
Special Procedures and Procedural Innovations
Index
Contact Us
Contact Us
LegalBooks.ie
Legal & General Shop
The Law Society Building
The Four Courts
Dublin 7
01 8725522
info@legalbooks.ie
D07 N972

VAT number: IE4814267p


Payment & Security
Your payment information is processed securely. We do not store credit card details nor have access to your credit card information.