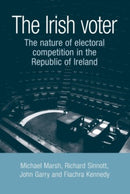 Description
Author:  Michael Marsh, Richard Sinnott, John Garry, Fiachra Kennedy
Format: Paperback / softback 328 pages, Tables, black & white, Line drawings, unspecified
Publisher: Manchester University Press
Imprint: Manchester University Press
ISBN: 9780719077326
Published: 1 Mar 2008
This pioneering analysis uses the results from the first ever Irish election study to provide a comprehensive survey of the motives, outlook and behaviour of voters in the Republic of Ireland. Building on the foundations laid down by previous work on comparative electoral behaviour, it explores long-term influences on vote choice, such as party loyalties and enduring values, as well as short-term ones, such as the economy, the party leaders and the candidates themselves. It also examines how people use their vote and why so many people do not vote at all.
Many features of Irish elections make such a detailed study particularly important. The single transferable vote system allows voters an unusual degree of freedom to pick the candidates they prefer, while electoral trends observed elsewhere can be found in a more extreme form in Ireland. For example, attachment to parties is very low, differences between them are often obscure, candidate profiles are very high and turnout is falling rapidly.
However, Irish elections defy international trends in other respects, most notably in the degree of personal contact parties and candidates make with their voters. Findings are presented in a manner that is highly accessible to anyone with an interest in elections, electoral systems and electoral behaviour. The book is essential reading for anyone interested in Irish politics and is an important text for students of European Politics, Parties and Elections, Comparative Politics and Political Sociology.
Contact Us
Contact Us
LegalBooks.ie
Legal & General Shop
The Law Society Building
The Four Courts
Dublin 7
01 8725522
info@legalbooks.ie
D07 N972

VAT number: IE4814267p


Payment & Security
Your payment information is processed securely. We do not store credit card details nor have access to your credit card information.