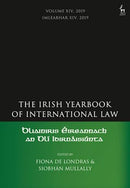 Description
Printed on demand
Edited by: Fiona de Londras, Siobhán Mullall
ISBN13: 9781509950911
Published: February 2023
Publisher: Hart Publishing
Format: Paperback 


The publisher will print a copy to fulfill your order. Books can take between 1 to 3 weeks. Looseleaf titles between 1 to 2 weeks.
The Irish Yearbook of International Law supports research into Ireland's practice in international affairs and foreign policy, filling a gap in existing legal scholarship and assisting in the dissemination of Irish policy and practice on matters of international law. On an annual basis, the Yearbook presents peer-reviewed academic articles and book reviews on general issues of international law. Designated correspondents provide reports on international law developments in Ireland, Irish practice in international bodies, and the law of the European Union as relevant to developments in Ireland. In addition, the Yearbook reproduces key documents that reflect Irish practice on contemporary issues of international law.
This volume of the Yearbook includes a discussion of human rights based responses to human trafficking; the intersection between business and human rights in Ireland and statements on women, peace and security.
Subjects:
Irish Law
Contents:
Editorial
Fiona de Londras, and Siobhán
Articles
A Human Rights-Based Approach to Trafficking in Persons in Conflict Situations
Maria Grazia Giammarinaro
Embedding Business and Human Rights in Ireland: Legislating for Human Rights Due Diligence
Shane Darcy
Was Rockall Conquered? An Application of the Law of Territory to a Rock in the North Atlantic Ocean
Ríán Derrig
Correspondent Reports
Human Rights in Ireland 2019
Sandra Duffy
Human Rights in Northern Ireland 2019
Esther McGuiness
Ireland and International Law 2019
Dug Cubie
Ireland in the European Union 2019
Rónán R. Condon
Documents
Statement on Behalf of Ireland, Ambassador Geraldine Byrne Nason, 23 April 2019 United Nations Security Council Open Debate on Women, Peace and Security: Sexual Violence in Conflict
Statement by Ambassador Geraldine Byrne Nason, Permanent Representative of Ireland to the United Nations, New York, 9 July 2019 Threats to International Peace and Security: Linkage between International Terrorism and Organised Crime
Statement Delivered on Behalf of Ireland by H.E. Amb. Brian Flynn, Chargé d'Affaires, at the United Nations Security Council Open Debate on Children and Armed Conflict, 02 August 2019
President Addresses High Level Review of SAMOA Pathway United Nations Headquarters, New York, Friday 27th September 2019
Statement at UNGA 74, 28 October 2019 on Part 1 of the ILC Report Relating to Crimes against Humanity, Jus Cogens and Provisional Application of Treaties
Statement at UNGA 74, 1 November 2019 on Part 2 of the ILC Report Relating to Immunity of State Offiials from Foreign Criminal Jurisdiction and Sea-Level Rise in Relation to International Law
Statement at UNGA 74, 5 November 2019 on Part 3 of the ILC Report Relating to General Principles of Law
Ireland National Statement, Minister Richard Bruton – COP25, 11 December 2019
Contact Us
Contact Us
LegalBooks.ie
Legal & General Shop
The Law Society Building
The Four Courts
Dublin 7
01 8725522
info@legalbooks.ie
D07 N972

VAT number: IE4814267p


Payment & Security
Your payment information is processed securely. We do not store credit card details nor have access to your credit card information.