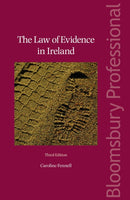 Description
Published: 30-11-2009
Format: Paperback
Edition: 3rd
ISBN: 9781847660633
RRP : €165.00
About The Law of Evidence in Ireland:
This is the third edition of the hugely successful The Law of Evidence. The text gives an up-to-date account of the law of evidence on Ireland. The text will be of interest to all those working in the Irish legal system, the criminal legal system in particular as well as to policy makers and those studying more general issues related to matters of trial, adjudication and fact-finding in various contexts. The text explores the development of a particular Irish dimension to Evidence scholarship, which is based on constitutional notions of fairness. In light of the incorporation of the ECHR this must continue to be influential in this and possibly other jurisdictions. The phenomenon of the Special Criminal Court is considered.

The Criminal Law (Insanity) and (Sexual Offences) Acts of 2006 are examined in this new edition. The Criminal Procedure (Amendment) Act 2007 is considered, as are the Criminal Justice Acts of 2006 and 2007. The caselaw has been brought entirely up to date since the last edition.


Contact Us
Contact Us
LegalBooks.ie
Legal & General Shop
The Law Society Building
The Four Courts
Dublin 7
01 8725522
info@legalbooks.ie
D07 N972

VAT number: IE4814267p


Payment & Security
Your payment information is processed securely. We do not store credit card details nor have access to your credit card information.