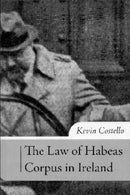 Description
ISBN: 9781851828364

September 2006
This study describes the evolution of the habeas corpus remedy in Ireland from the Elizabethan era to the enactment of Article 40.4. It analyses the scope of the judicial enquiry under Article 40.4.2. It describes the operation of the remedy in three contexts in which it now functions: detention in the course of the criminal prosecution, administrative detention under the immigration and mental health codes, and detention incidental to civil litigation.
Kevin Costello is a lecturer in the faculty of law, University College Dublin.
Contact Us
Contact Us
LegalBooks.ie
Legal & General Shop
The Law Society Building
The Four Courts
Dublin 7
01 8725522
info@legalbooks.ie
D07 N972

VAT number: IE4814267p


Payment & Security
Your payment information is processed securely. We do not store credit card details nor have access to your credit card information.