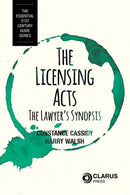 Description
Price not available yet
Authors: Constance Cassidy, Harry Walsh
ISBN13: 9781911611387
Publishing: February 2022
The Licensing Acts: The Lawyer's Synopsis provides the reader with a succinct update on the general provisions governing alcohol (and other relevant) licences in Ireland. It details jurisdictional and procedural requirements with regard to all licensed premises within this jurisdiction including pubs, hotels, holiday camps, off-licences, premises licensed to manufacture and sell by wholesale and retail spirits and beer manufactured on the premises, restaurants and wine bars or indeed any premises licensed to sell alcohol.
Trading hours are discussed, as are offences and endorsements and temporary closure orders. The rights and obligations of licensees in respect of different types of licensed premises are summarised, as is the jurisdiction of the appropriate court in the grant and renewal of such licences, orders and certificates. The different categories of licences are discussed; those statutory provisions creating such licences and imposing restrictions and/or conditions are also dealt with.
The general jurisdiction of both the Circuit Court and the District Court is dealt with, as is recent licensing legislation to include the Public Health (Alcohol) Act 2018 and the Intoxicating Liquor (Breweries and Distilleries) Act 2018.
CONTENTS
PART I : LIQUOR LICENCES
Chapter 1: Retail licences: general
Chapter 2: Publican's on-licence
Chapter 3: Producers' retail licences
Chapter 4: Off-licences
Chapter 5: Restaurants
Chapter 6: Hotels
Chapter 7: Holiday camps
Chapter 8: Wholesale and manufacturers' licences
PART II: OTHER LICENCES, CERTIFICATES, ORDERS
Chapter 9: Registered club
Chapter 10: Special exemption order, occasional licence
Chapter 11: Entertainment licences
PART III: PROCEDURE
Chapter 12: The Circuit Court
Chapter 13: The District Court
Chapter 14: Annual Licensing Court
Chapter 15: Renewal and transfer
Chapter 16: Objection
PART IV: ENTITLEMENTS, OBLIGATIONS, ENFORCEMENT
Chapter 17: Operation of a licensed premises
Chapter 18: Trading hours
Chapter 19: Offences
Chapter 20: Endorsement
Chapter 21: Temporary closure order
Contact Us
Contact Us
LegalBooks.ie
Legal & General Shop
The Law Society Building
The Four Courts
Dublin 7
01 8725522
info@legalbooks.ie
D07 N972

VAT number: IE4814267p


Payment & Security
Your payment information is processed securely. We do not store credit card details nor have access to your credit card information.