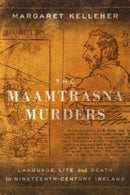 Description
Author: Margaret Kelleher

Format: Paperback / softback 352 pages, 16 pages of illustrations

Publisher: University College Dublin Press

ISBN: 9781910820421

Published: 11 Nov 2018

 

The Maamtrasna Murders provides a cultural history of the events and subsequent impact of the renowned Maamtrasna murders from the perspective of language change in late nineteenth-century Ireland. Professor Kelleher takes the Maamtrasna case - one that is notorious for its failure to provide interpretation and translation services for monoglot Irish speakers - and examines broader sociolinguistic issues. Uncovering archival materials not previously consulted, this work illuminates a story that has proven to be much richer, `messier', and a more intricate social narrative than previous commentators have recognized.

 

The Maamtrasna Murders moves Maamtrasna's violation of human rights from a local to a global stage. While the wrongful execution of monolingual Myles Joyce would prove to be the best-known feature of the case, the complex significance of language-use in an isolated region mirrors the dynamics that continue to influence the fates of monolingual and bilingual people today.
Contact Us
Contact Us
LegalBooks.ie
Legal & General Shop
The Law Society Building
The Four Courts
Dublin 7
01 8725522
info@legalbooks.ie
D07 N972

VAT number: IE4814267p


Payment & Security
Your payment information is processed securely. We do not store credit card details nor have access to your credit card information.