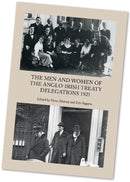 Description
Editors: Fiona Murray and Emeritus Professor Eda Sagarra
Published: 2022
Publisher: Laurelmount Press
Project Editor: Siobhán Prendergast, Dingle Publishing Services
In October 1921 a delegation of men and women, nominated by Dáil Éireann, left Dublin to travel to London. Their mission: to meet the representatives of Great Britain and try to negotiate a peace treaty, which would put an end to centuries of conflict in Ireland. The book, written and edited by descendants of the Irish delegation, tells the human story of all those men and women behind the negotiations in London 100 years ago – many of whom are largely unknown today. The book includes the important role played by women in the negotiations and the ancillary staff from the intelligence staff to the Irish cook to the dispatch carriers.
Fiona Murray of Cork City is the granddaughter of Judge Diarmaid Fawsitt, is a UCC graduate in French and English and holds an MA (NUI) in old and Middle English. She spent her career mainly in education, first as a secondary school teacher and then as an Examinations and Assessment Manager with the Irish State Examinations Commission. In pursuit of her life long interest in history, she enrolled as a graduate student at Jesus College Oxford and in 2021 was awarded her Masters in Historical Studies by the University of Oxford.
Professor Eda Sagarra, FTCD, MRIA, of Tyrone and Cork parentage, is a granddaughter of T.A. Smiddy. A UCD graduate of history and German (MA, NUI), she studied at Freiburg i.B, Zurich and Vienna (DPhil). A lecturer in Manchester University (1958–75), she was appointed to the chair of German at Trinity College Dublin in 1975 (MA, Litt. D., DU) and has published widely on modern German literature and history. She is the former Pro-Chancellor of Dublin University and founding chair of the Irish Research Council for the Humanities and Social Sciences.
Contact Us
Contact Us
LegalBooks.ie
Legal & General Shop
The Law Society Building
The Four Courts
Dublin 7
01 8725522
info@legalbooks.ie
D07 N972

VAT number: IE4814267p


Payment & Security
Your payment information is processed securely. We do not store credit card details nor have access to your credit card information.