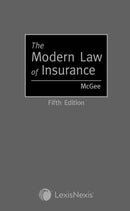 Description
Andrew McGee
ISBN: 9781474326360
Previous Edition ISBN: 9781474310352
Published: August 2023
Publisher: LexisNexis Butterworths
Country of Publication: UK
Format: Hardback
The fifth edition of this popular textbook provides a comprehensive and authoritative treatment of insurance law and offers a revised practical approach for readers. It has been fully updated in light of the many significant changes in insurance law in the 5 five years since the previous edition.
McGee: The Modern Law of Insurance 5th edition includes coverage of:
Business interruption insurance, especially relating to the COVID pandemic, and the FCA and leading insurers establishing new points of causation, which will have wider repercussions in the law
- Travel claims arising from cancellations caused or influenced by COVID and the ensuing controversy and complications
- Insurable interest, the relatively new duty of disclosure, and the ever complex and shifting area of motor insurance
- The financial ombudsman service and it's recent decisions in relation to what is "fair and reasonable"

Also new to this edition is the contribution of Michael Mendelowitz, who consulted with the author in the preparation of the book. He has brought his experience to bear across the text, especially in areas relating to commercial insurance, where he has great practical experience.
With its up to date coverage and in-depth analysis, this new edition will be useful reading for the Bar and to all practitioners working on insurance matters.
Contact Us
Contact Us
LegalBooks.ie
Legal & General Shop
The Law Society Building
The Four Courts
Dublin 7
01 8725522
info@legalbooks.ie
D07 N972

VAT number: IE4814267p


Payment & Security
Your payment information is processed securely. We do not store credit card details nor have access to your credit card information.