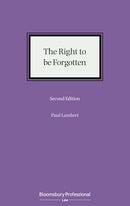 Description
Published: Aug 15 2022
Format: Hardback
Edition: 2nd
ISBN: 978152652193
Longlisted for the 2022 Inner Temple Main Book Prize
The Right to be Forgotten is one of the most publicised areas of the GDPR and has received massive worldwide publicity following judicial and legal developments in Europe. Individual data regulators have increased powers and importance in dealing with RtbF rights for individuals, and it is more important than ever for them to be up to date. The new, second edition, is fully updated to include:
- the increasing importance of the role of RtbF in relation to media content (newspapers and television media in particular).
- the evolving jurisprudence in terms of RtbF generally, especially in light of increased understanding of the GDPR RtbF and the landmark Google Spain RtbF case.
- the recent Google France case.
- the potential for group actions, class actions, and litigation funding, in relation to RtbF issues
This title is included in Bloomsbury Professional's Intellectual Property and IT online service.
Table of Contents
Part A Background
Chapter 1 The Problem of Time
Chapter 2 Big Bang
Chapter 3 Problems Facing Individuals
Chapter 4 Online Tools
Chapter 5 Legal Backdrop
Chapter 6 The Parties of Data Protection
Chapter 7 Forgetting and Other Rights
Chapter 8 Enhanced Regime
Chapter 9 Responses
Chapter 10 Practical Issues Facing Individuals
Part B Right to be Forgotten: The Details
Chapter 11 The Right
Chapter 12 The RtbF Rights and Streams
Chapter 13 Additional RtbF Obligations
Chapter 14 Exemptions
Part C Official Guidance
Chapter 15 The WP 29 Guidance on Google Spain
Part D EU Case Examples
Chapter 16 EU Case Law Examples
Part E National Case Law
Chapter 17 National Case Law: United Kingdom
Chapter 18 Successful UK RtbF Case – NT2
Chapter 19 Unsuccessful UK RtbF Case – NT1
Chapter 20 ICO and the RtbF
Chapter 21 UK Law
Chapter 22 UK Brexit and Data Protection
Part F Additional Cases
Chapter 23 Additional Cases
Part G Media Issues
Chapter 24 Media
Part H Additional Solutions: Options to Consider
Chapter 25 Potential Additional Solution
Part I Impact, Commentary and Future
Chapter 26 Conclusion: Impact and Future
Appendices
Amanda Todd Transcript
Google Spain: Reference to Legal Provisions


Contact Us
Contact Us
LegalBooks.ie
Legal & General Shop
The Law Society Building
The Four Courts
Dublin 7
01 8725522
info@legalbooks.ie
D07 N972

VAT number: IE4814267p


Payment & Security
Your payment information is processed securely. We do not store credit card details nor have access to your credit card information.