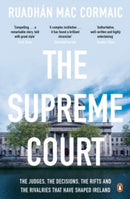 Description
By Ruadhan Mac Cormaic 
Format: Paperback 
ISBN: 9780241970331
Published: 4 May 2017
'A wonderful book ... a superb book and it's not just for people interested in law; it tells you a lot about Ireland' Vincent Browne, TV3The judges, the decisions, the rifts and the rivalries - the gripping inside story of the institution that has shaped Ireland. 'Combines painstaking research with acute analysis and intelligence' Colm Toibin, Irish Times' Books of the Year'[Mac Cormaic] has done something unprecedented and done it with a striking maturity, balance and adroitness.
He creates the intimacy necessary but never loses sight of the wider contexts; this is not just a book about legal history; it is also about social, political and cultural history ... [the Supreme Court] has found a brilliant chronicler in Ruadhan Mac Cormaic' Diarmaid Ferriter, Professor of Modern Irish History, UCD'Mac Cormaic quite brilliantly tells the story ... balanced, perceptive and fair ...
a major contribution to public understanding' Donncha O'Connell, Professor of Law, NUIG, Dublin Review of Books'Compelling ... a remarkable story, told with great style' Irish Times'Authoritative, well-written and highly entertaining' Sunday TimesThe work of the Supreme Court is at the heart of the private and public life of the nation. Whether it's a father trying to overturn his child's adoption, a woman asserting her right to control her fertility, republicans fighting extradition, political activists demanding an equal hearing in the media, women looking to serve on juries, the state attempting to prevent a teenager ending her pregnancy, a couple challenging the tax laws, a gay man fighting his criminalization simply for being gay, a disabled young man and his mother seeking to vindicate his right to an education, the court's decisions can change lives.
Now, having had unprecedented access to a vast number of sources, and conducted hundreds of interviews, including with key insiders, award-winning Irish Times journalist Ruadhan Mac Cormaic lifts the veil on the court's hidden world. The Supreme Court reveals new and surprising information about well-known cases. It exposes the sometimes fractious relationship between the court and the government.
But above all it tells a story about people - those who brought the cases, those who argued in court, those who dealt with the fallout and, above all, those who took the decisions. Judges' backgrounds and relationships, their politics and temperaments, as well as the internal tensions between them, are vital to understanding how the court works and are explored here in fascinating detail. The Supreme Court is both a riveting read and an important and revealing account of one of the most powerful institutions of our state.
Ruadhan Mac Cormaic is the former Legal Affairs Correspondent and Paris Correspondent of the Irish Times. He is now the paper's Foreign Affairs Correspondent.
Contact Us
Contact Us
LegalBooks.ie
Legal & General Shop
The Law Society Building
The Four Courts
Dublin 7
01 8725522
info@legalbooks.ie
D07 N972

VAT number: IE4814267p


Payment & Security
Your payment information is processed securely. We do not store credit card details nor have access to your credit card information.