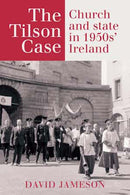 Description
by Jameson David
Hardcover
9781782055600
Published: March 2023
David Jameson's The Tilson Case: Church and State in 1950s' Ireland tells the story of one the most extraordinary causes célèbre of twentieth-century Ireland, which followed the marriage of Ernest Tilson, a Protestant, to Mary Barnes, a Catholic, in Dublin in 1941. Since this was a mixed marriage and the couple wished to be married in a Catholic church, both were obliged to sign a pledge agreeing to raise any children of the marriage as Catholics. Nine years later Ernest reneged on that promise when he removed three of his four sons to the Protestant-run Birds' Nest orphanage in Dún Laoghaire, County Dublin, intending to educate them as Protestants. To recover her sons, Mary took a case to the High Court and won; her husband appealed this ruling in the Supreme Court and lost. Widely reported in newspapers in Ireland, Britain and the United States, this bitterly contested dispute pitted the Catholic and Protestant churches against each other and polarised Ireland along confessional lines. Based on archival material, previously unseen documentary sources and oral testimonies, this engaging book not only recounts the intriguing story of Mary and Ernest Tilson, but also offers fresh perspectives on the vexed issue of mixed marriages in Ireland, the Catholic Ne Temere decree and the intimate relationship between the Catholic Church and the state at the time. It also highlights how a domestic dispute, with multiple causes, was elevated to an event of national significance involving both Churches, the state and wider society. Crucially, Jameson also examines another disquieting aspect of the case that has reverberated to the present day: the court proceedings raise awkward questions about the impartiality of Catholic judges at the time and suggest that the Catholic Church exerted undue influence on the workings of the state.
Contact Us
Contact Us
LegalBooks.ie
Legal & General Shop
The Law Society Building
The Four Courts
Dublin 7
01 8725522
info@legalbooks.ie
D07 N972

VAT number: IE4814267p


Payment & Security
Your payment information is processed securely. We do not store credit card details nor have access to your credit card information.