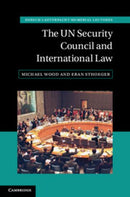 Description
By: Michael Wood, Eran Sthoeger
ISBN: 9781108483490
Published: June 2022
Publisher: Cambridge University Press
Country of Publication: UK
Format: Hardback
The UN Security Council and International Law explores the legal powers, limits and potential of the United Nations Security Council, offering a broadly positive (and positivist) account of the Council's work in practice. This book aims to answer questions such as 'when are Council decisions binding and on whom?', 'what legal constraints exist on Council decision making?' and 'how far is the Council bound by international law?'. Defining the controlling legal rules and differentiating between what the Council can do, as opposed to what it should do as a matter of policy, this book offers both a tool for assessment of the Council as well as realistic solutions to address its deficiencies, and, most importantly, evaluates its potential for maintaining international peace and security, to the benefit of us all.
Contents:
Introduction
1. The legal nature of the security council
2. Decisions of the security council
3. The powers of the security Council
4. Possible limits in the powers of the security council
5. The security council and measures not involving the use of force
6. The security council and the use of force
7. The security council, international organizations and the use of force
8. The security council and the international court of justice
9. The security council's contribution to the development of international law
Conclusions
Contact Us
Contact Us
LegalBooks.ie
Legal & General Shop
The Law Society Building
The Four Courts
Dublin 7
01 8725522
info@legalbooks.ie
D07 N972

VAT number: IE4814267p


Payment & Security
Your payment information is processed securely. We do not store credit card details nor have access to your credit card information.