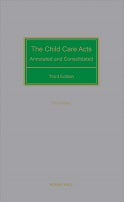 Description
Author: Paul Ward
Pub Date: 31/08/2014
ISBN: 9780414031517

This third editiona provides extensive discussion on all legislative amendments to the Act. It also includes valuable commentary on relevant case law in the area. The previous edition published in 2005, and so the third edition takes account of 9 years of case law and legislative amendments.

Key Features
* Provides a comprehensive and detailed examination of the child care legislation from 1991 to 2013 inclusive
* Deals with each section of the Child Care Act 1991, providing valuable analysis using up-to-date case law in the area
* Also highlights pertinent legislation that deals with different aspects of child welfare, such as the Mental Health Act 2001, the Children Act 2001, and the Refugee Act 1996
* Discusses the significance of the Children Act 1997 and the Children Act 2001 in the contexts in which they arise
* Incorporates comprehensive coverage of recent UK, ECHR and other common law jurisdictions case law.

New to the 3rd edition
* Deals with the Child Care (Amendment) Act 2011 and the Child Care (Amendment) Act 2013
* Reviews the role of the Child and Family Agency
* Includes coverage of Part 2 of the Courts and Civil Law (Miscellaneous Provisions) Act 2013 which lifts broadcasting restrictions
* Extensive treatment of important judgments since the last edition, such as: SS v HSE [2008] 1 I.L.R.M. 379; HSE v K [2007] IEHC 488; and KA v HSE [2012]IEHC 288

About the Author
Paul Ward, BCL (NUI), LLM (LSE) is a barrister and lecturer in family and tort law at University College Dublin.
Contact Us
Contact Us
LegalBooks.ie
Legal & General Shop
The Law Society Building
The Four Courts
Dublin 7
01 8725522
info@legalbooks.ie
D07 N972

VAT number: IE4814267p


Payment & Security
Your payment information is processed securely. We do not store credit card details nor have access to your credit card information.