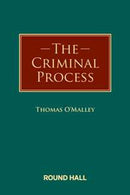 Description
Author : Thomas O'Malley
Publisher: Round Hall
Publication Date: 31/12/2009
ISBN: 9781858004624
Jurisdiction: Ireland

The Criminal Process examines the current law on central issues arising before, during, and after the criminal trial. It provides you with a clear explanation of the main legal and policy issues connected with the investigation and prosecution of crime, the trial process itself, the post-conviction remedies and related matters.

This new title will bring practitioners right up-to-date and includes the relevant provisions of the Criminal Justice Acts 2006?2007 and the new Guidelines for Prosecutors. It also examines the emerging law on issues like bail, delay, the duty to preserve evidence and the role of judicial review in the criminal process. It focuses on the key issues that have occupied the courts in recent years such as pre-trial remedies, delay, adverse publicity, and the duty to preserve evidence.

While principally focusing on Irish and European law, The Criminal Process has a strong comparative dimension and it draws extensively on British, American and Commonwealth materials.

Thomas O?Malley is a practising barrister and lectures in NUI, Galway.


 
Contact Us
Contact Us
LegalBooks.ie
Legal & General Shop
The Law Society Building
The Four Courts
Dublin 7
01 8725522
info@legalbooks.ie
D07 N972

VAT number: IE4814267p


Payment & Security
Your payment information is processed securely. We do not store credit card details nor have access to your credit card information.