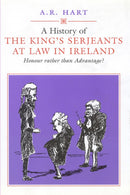 Description
ISBN: 1-85182-528-2
Published October 2000.
In this history of the ancient, and now defunct, office of the king's serjeant at law in Ireland, Judge Hart traces the development of an office which was at the centre of legal and political affairs in Ireland throughout the greater part of the seven centuries of its existence.
From the early days of the 'first adventure of the common law' in the thirteenth century, to Serjeant Sullivan KC, who defended Sir Roger Casement on charges of treason in 1916, the serjeants at law included many of the leading members of the Irish bar, individuals who were as prominent in government, parliament and public life in Ireland as they were in the law courts. This survey seeks to provide for the first time a systematic analysis of their legal and political significance, and examines their changing role, from being the predecessor of the modern attorney general, to being chosen in the eighteenth century as much for their usefulness to the government as parliamentary champions as for their services in the courts.
The contents also include the first table of all known holders of this office, details of their terms of office and careers, as well as appendices containing details of the earnings of serjeants before and after the Union.
Judge Anthony Hart QC was called to the Bar of Northern Ireland in 1969, took silk in 1983 and was appointed a county court judge in 1985. A former president of the Irish Legal History Society, he has been Recorder of Belfast since 1997.
The Irish Legal History Society examines, explores, and engages with all issues relating to the legal history of Ireland, from earliest time to the present day. Founded in 1988, the Society holds two Discourses annually, as well as publishing scholarly works on a range of legal history subjects.
Contact Us
Contact Us
LegalBooks.ie
Legal & General Shop
The Law Society Building
The Four Courts
Dublin 7
01 8725522
info@legalbooks.ie
D07 N972

VAT number: IE4814267p


Payment & Security
Your payment information is processed securely. We do not store credit card details nor have access to your credit card information.