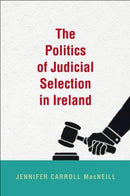 Description
Published June 2016
A defense of the basic principles of democracy ... This book is indispensable for the makers of policy ... invaluable ... one of a kind" – Taoiseach Enda Kenny at the launch of The Politics of Judicial Selection in Ireland

This book provides an unprecedented analysis of the politics underlying the appointment of judges in Ireland, enlivened by a wealth of interview material, and putting the Irish experience into a broad comparative framework. It tells the inside story of the process by which judges were chosen over the past three decades, both in cabinet and in the Judicial Appointments Advisory Board, and charts a path for future reform of judicial appointment processes in Ireland. The research is based on a large number of interviews with senior judges, current and former politicians, Attorneys-General and members of the Judicial Appointments Advisory Board. The circumstances surrounding decisions about institutional design and institutional change are reconstructed in meticulous detail, giving us an excellent insight into the significance of a complex series of events that govern the way in which judges in Ireland are chosen today.
Jennifer Carroll MacNeill is a political scientist with a research interest in political institutions and the judiciary. She completed her PhD research at the School of Politics and International Relations, UCD, and is both a IRCHSS Government of Ireland Scholar and the winner of the Basil Chubb Prize 2015 for the best politics PhD in Ireland. A barrister (and former solicitor), Dr Carroll MacNeill has worked as a lawyer in the public service, both within the Oireachtas as Legal Adviser in the Office of the Leader of Fine Gael and within Government as Special Adviser in the Department of Children and Youth Affairs and in the Department of Justice and Equality.
Contact Us
Contact Us
LegalBooks.ie
Legal & General Shop
The Law Society Building
The Four Courts
Dublin 7
01 8725522
info@legalbooks.ie
D07 N972

VAT number: IE4814267p


Payment & Security
Your payment information is processed securely. We do not store credit card details nor have access to your credit card information.