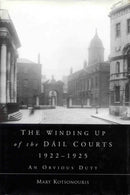 Description
Mary Kotsonouris

ISBN13: 9781851827671
ISBN: 1851827676
Published: January 2004
Publisher: Four Courts Press
Country of Publication: Ireland
Format: Hardback


In 1923 the Irish Free State government established a judicial commission with extraordinary powers to revive the jurisdiction of the court system which had flourished under the authority of the First Dáil, so that the 5000 civil cases current when the Dáil courts were abruptly closed down at the outbreak of the Civil War, could be brought to a conclusion. Its registry and principal court were at Dublin Castle, but the commissioners also went out on circuit. After two years, their jurisdiction was transferred to the High Court where it remains. All its records are in the National Archives. This book describes not only the origins and progress of the commission and its importance in the early years of the Irish Free State, but its role at the centre of a power struggle between the shrewd mandarins then at the helms of the nascent departments of justice and finance. Figures such as Kevin O'Higgins, Hugh Kennedy, O'Friel, Meredith and Mathieson are prominent in the story.
Contact Us
Contact Us
LegalBooks.ie
Legal & General Shop
The Law Society Building
The Four Courts
Dublin 7
01 8725522
info@legalbooks.ie
D07 N972

VAT number: IE4814267p


Payment & Security
Your payment information is processed securely. We do not store credit card details nor have access to your credit card information.