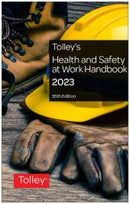 Description
Tolley
Published: November 14, 2022
ISBN/ISSN: 9781474321020
This practitioner-focused handbook provides an authoritative reference source covering key aspects of health and safety law and practice, as well as related environmental and employment information.
Adopting a user-friendly A-Z format, the handbook presents clear narrative on the latest legislative changes, how to comply with current law and practice, and how they affect the role of the health and safety manager, as experts in health and safety offer insight and guidance on a range of subjects, from accident reporting, welfare facilities, mental ill-health, an aging workforce, absenteeism, travel safety and personal safety.
Updated annually, this essential handbook fully equips busy practitioners to deal with day-to-day issues quickly.
Table of Contents 
Introduction 
Access, Traffic Routes and Vehicles 
Accident Reporting and Investigation 
Asbestos 
Business Continuity 
Compensation for Work Injuries/Diseases 
Community Health and Safety 
Confined Spaces 
Construction and Building Operations 
Construction, Design and Management 
Coronavirus (COVID-19) 
Corporate Manslaughter 
Dangerous Goods – Carriage 
Dangerous Substances and Explosive Atmospheres 
Disaster and Emergency Management Systems (DEMS) 
Display Screen Equipment 
Electricity 
Emissions into the Atmosphere 
Employers' Liability Insurance 
Employment Protection 
Enforcement 
Environmental Management 
The Equality Act 2010 
Ergonomics 
Europe – Health and Safety 
Facilities Management – An Overview 
Fire Prevention and Control 
First-Aid 
Food Safety and Standards 
Gas Safety 
Harassment in the Workplace 
Hazardous Substances in the Workplace 
International Health and Safety 
Joint Consultation in Safety 
Lifting Operations 
Lighting 
Machinery Safety 
Major Accident Hazards 
Managing Absence 
Managing Health and Safety 
Managing Work-related Road Safety 
Manual Handling 
Noise at Work 
Occupational Health and Diseases – An Overview 
Occupiers' Liability 
Offshore Operations 
Personal Protective Equipment 
Pressure Systems 
Product Safety 
Public & Products Liability Insurance 
Radiation 
Rehabilitation 
REACH – Registration, Evaluation and Authorisation of Chemicals in Europe 
Risk Assessment 
Safe Systems of Work 
Statements of Health and Safety Policy 
Stress at Work 
Training and Competence in Occupational Safety and Health 
Ventilation 
Vibration 
Violence in the Workplace 
Vulnerable Persons 
Work at Height 
Working Time 
Workplaces – Health, Safety and Welfare
Contact Us
Contact Us
LegalBooks.ie
Legal & General Shop
The Law Society Building
The Four Courts
Dublin 7
01 8725522
info@legalbooks.ie
D07 N972

VAT number: IE4814267p


Payment & Security
Your payment information is processed securely. We do not store credit card details nor have access to your credit card information.