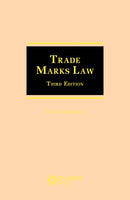 Description
Author: Glen Gibbons 
ISBN: 9781911611813  
Format: Hardback  
Publication Date: October 2023
"…the author has taken the opportunity to set out in a clear, concise, yet comprehensive way this often complex area of law."
 Mr Justice Frank Clarke (former Chief Justice, Foreword to 1st edition) 
About 
Trade Marks Law, Third Edition, by Glen Gibbons SC, provides a comprehensive examination of Irish trade marks law including analysis of all significant Superior Court and Irish Intellectual Property Office jurisprudence. Principal case law from the UK, Court of Justice and General Court are also included in this leading text book.
Trade Marks Law, Third Edition, is fully updated and includes:
Full analysis of the statutory position in Ireland concerning the opposition, registration, invalidity and revocation of trade marks;
A detailed consideration of the jurisprudence concerning online trade mark disputes including website targeting;
The impact of the Supreme Court Merck judgment on interlocutory trade mark injunctions;
The position of unorthodox trade marks in relation to registration and invalidity;
A review of the remedies available including the position of damages and declaratory relief;
Comprehensive analysis of IPOI decisions under the Trade Marks Act 1996;
Recent developments in passing off and comparative advertising. 
Content includes
Chapter 1: Introduction
Chapter 2: International Developments 
Chapter 3: Passing Off and Ancillary Torts 
Chapter 4: Trade Mark Registration 
Chapter 5: Absolute Grounds for Refusal of Trade Mark Registration 
Chapter 6: Relative Grounds for Refusal of Trade Mark Registration 
Chapter 7: Surrender, Revocation and Invalidity 
Chapter 8: Infringement 
Chapter 9: Defences 
Chapter 10: Remedies and Criminal Sanctions 
Chapter 11: Practice and Procedure 
Appendix I: Consolidated Trade Marks Act 1996 
Appendix II: Consolidated Trade Marks Rules 1996 
Who Should Buy This Book?
Trade Marks Law, Third Edition is a must for all intellectual property lawyers in Ireland and especially trade mark agents. Barristers and solicitors who specialise in commercial law will also have a keen interest in this title as well as 'in-house lawyers' working in SMEs and large corporations. 
About the Author 
Glen Gibbons is a barrister with extensive experience of IP litigation in Ireland.
Contact Us
Contact Us
LegalBooks.ie
Legal & General Shop
The Law Society Building
The Four Courts
Dublin 7
01 8725522
info@legalbooks.ie
D07 N972

VAT number: IE4814267p


Payment & Security
Your payment information is processed securely. We do not store credit card details nor have access to your credit card information.