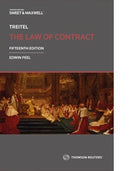 Description
15th Edition
ISBN:  9780414070714
Published by:  Sweet & Maxwell
Author: Professor Edwin Peel
Publication Date:  31 Mar 2020
Treitel on the Law of Contract is recognised as the most thorough and discerning treatment of contract law. It is a widely adopted textbook for students and a valuable source of reference for practitioners. This new edition provides a clear and detailed analysis of an increasingly complex area of law.

Examines, and offers resolutions to, controversial and problematic points of law
Takes account of a number of cases in the Supreme Court including Arnold v Britton and Wood v Sureterm (interpretation), Marks & Spencer v BNP Paribas (implied terms), Patel v Mirza (illegality), Cavendish v Makdessi (penalties), and Morris-Garner v One Step ("negotiating damages")
Also covers important developments in the Court of Appeal including FSHC Group Holdings v Glas Trust (rectification) and First Tower Trustees v CDS (Superstores International) ("non-reliance") clauses
Incorporates the provisions of the Consumer Rights Act 2015 into the chapters affected

Treitel remains the most coherent, comprehensive and compelling analysis of contract law on the market.
Contact Us
Contact Us
LegalBooks.ie
Legal & General Shop
The Law Society Building
The Four Courts
Dublin 7
01 8725522
info@legalbooks.ie
D07 N972

VAT number: IE4814267p


Payment & Security
Your payment information is processed securely. We do not store credit card details nor have access to your credit card information.