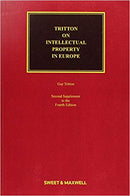 Description
Now in its fifth edition, 
Tritton on Intellectual Property in Europe
 continues to provide leading authority on intellectual property law and rights protection in Europe. It offers unrivalled coverage and comprehensively analyses the law and legislation governing patents, trademarks, copyright, designs, and plant varieties. Written by an expert in the field, this book clarifies the European position in a fast-moving and dynamic area of law.

Tritton on Intellectual Property in Europe
 is the leading text for explaining the European position across the breadth of intellectual property law.
Provides unrivalled depth of coverage of intellectual property law and rights protection at an international, regional, and European level.
Adopts a thematic approach to address the law, legislation, and regulations governing patents, trademarks, copyright, designs, and plant varieties.
Compares the European legal position with that of individual nations.
Addresses not only substantive IP law but also practical subjects such as implementation, licensing, franchising, and joint ventures.
Examines the relationship between intellectual property and the EU and the different international conventions designed to protect member states.
Advises on the different kinds of 'Euro' defences available to IP actions.
Looks at the relationship with competition law and its enforcement within the EU, including analysis of the essential components of Article 101 of the Treaty on the Functioning of the European Union.
Includes a chapter on the enforcement of intellectual property rights and border controls.
Defines dominant position and explains what might be constituted as an abuse.
Covers issues of jurisdictional provisions and protective measures.
The fifth edition has been given a comprehensive update to include the following new features:
Major update of the chapter on Jurisdiction, including online IPR infringement and Article 7(2) Recast Brussels Regulation
Analysis of the changes to trade mark law brought about by the new EUTM Regulation and Directive
Full update on "communication to the public" right, including analysis of the ECJ decisions in

 

Reha Training & GS Media
Looks at the "technical function" exception
Detailed commentary on the Unitary Patent and UPC Agreement
Review of the US Department of Justice 2017 Guidelines to Licensing of IPR
Addresses Article 102, technical standard and FRAND licences, including a full review of

 

Huawei v ZTE

 

and

 

Unwired Planet v Huawei
Updates on European IP defences, including

 

FAPL v Luxton
Full review of all recent IP case law of ECJ
Contact Us
Contact Us
LegalBooks.ie
Legal & General Shop
The Law Society Building
The Four Courts
Dublin 7
01 8725522
info@legalbooks.ie
D07 N972

VAT number: IE4814267p


Payment & Security
Your payment information is processed securely. We do not store credit card details nor have access to your credit card information.