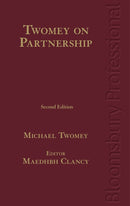 Description
Published: 31-01-2019
Format: Hardback
Edition: 2nd
ISBN: 9781526504852


Twomey on Partnership
Comprehensive and highly detailed, Twomey on Partnership, 2nd edition, includes practitioner-focused chapters on disputes between partners, litigation by and against partnerships and a commentary on each of the clauses of a typical partnership agreement. Few areas of law are as similar throughout the common law world as partnership law. This important book analyses not only Irish, English and Scottish partnership cases, but also the rich vein of partnership cases to be found in other common law jurisdictions, and explains how these cases impact upon Irish law.

This new edition has been updated to take account of key Irish cases over the last 17 years, including McAleenan v AIG, Harris v Quigley and Cronin v Kehoe. In addition, it includes analysis of any foreign (particularly English) cases of particular relevance.

A new chapter has been added which deals with the Legal Services Regulation Act 2015 and its provisions on partnerships, including limited liability partnerships. 

While the key partnership acts (the Partnership Act 1890, the Limited Partnerships Act 1907 and the Investment Limited Partnerships Act 1994) have not changed to any significant degree since publication of the first edition, the Irish Government has approved changes to the Investment Limited Partnerships Act 1994 and this is dealt with in the book. Other analysis of legislation in the book has been been updated to reflect the changes since the first edition, in particular the material relating to Companies Act 2014.
Table Of Contents
Part A Nature of a Partnership
Ch 1 Introduction
Ch 2 Definition and Existence of a Partnership
Ch 3 Characteristics of a Partnership
Ch 4 Capacity to be a Partner
Ch 5 Evidentiary Requirements of Partnership
Ch 6 Types of Partners
Ch 7 Partner by Holding Out
Ch 8 Types of Partnership
Ch 9 Illegal Partnerships

Part B Relations Between Partners and Third Parties
Ch 10 Liability of a Partner for the Acts of his Co-partners
Ch 11 Nature and Duration of Liability
Ch 12 Litigation by and against Partners

Part C Relations between Partners Inter Se
Ch 13 Management Rights of Partners
Ch 14 Financial Rights of Partners
Ch 15 Fiduciary Duties of Partners
Ch 16 Partnership Property
Ch 17 Partnership Capital
Ch 18 The Goodwill of a Partnership
Ch 19 Shares in a Partnership
Ch 20 Litigation between Partners
Ch 21 The Terms of the Partnership Agreement
Ch 22 Anti-Competitive Provisions

Part D Dissolution of Partnerships
Ch 23 Causes of Dissolution
Ch 24 Death of a Partner
Ch 25 Dissolution by the Court
Ch 26 Post-Dissolution and Winding Up of a Partnership
Ch 27 Bankruptcy

Part E Limited Partnerships
Ch 28 Limited Partnerships
Ch 29 Investment Limited Partnerships
Ch 30 LLPs, legal partnerships and multi-disciplinary practices

Reviews
"Mr Twomey exhaustively catalogues every permutation of partnership law from its definition, to its terms, to bankruptcy, through limited partnerships and beyond... It covers a gap in the lexicon of Irish legal publications and Mr Twomey deserves kudos for this impressive and timely work." – The Irish Times
Contact Us
Contact Us
LegalBooks.ie
Legal & General Shop
The Law Society Building
The Four Courts
Dublin 7
01 8725522
info@legalbooks.ie
D07 N972

VAT number: IE4814267p


Payment & Security
Your payment information is processed securely. We do not store credit card details nor have access to your credit card information.