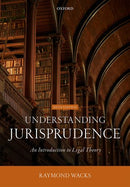 Description
ISBN13: 9780198864677
Previous Edition ISBN: 9780198806011
Published: November 2020
Publisher: Oxford University Press
Country of Publication: UK
Format: Paperback
Raymond Wacks
An extremely readable and interesting account for all law students, offering the ideal support for a legal theory module, as well as providing valuable context for the study of law in general
Written by an experienced academic and author, the text explains complex ideas with clarity, without avoiding the subtleties of the subject
Exposes students to a broad range of key theorists and concepts, along with issues such as punishment and rights which are treated thematically
Features pithy extracts and extensive further reading to introduce and explain the central scholarly works, ideas, and commentaries which shape legal theory, providing the ideal base for further study
Self-test questions appear at the end of chapters and multiple-choice questions are hosted online to help students test their understanding of jurisprudence
Also available as an e-book with functionality, navigation features, and links that offer extra learning support
New to this Edition:
Expanded discussions of theories of justice, globalisation, and environmental protection
A new section dedicated to judicial review and democracy
Updated suggested further reading lists and self-test questions at the end of each chapter
TABLE OF CONTENTS
1:What's it all about?
2:Natural law and morality
3:Classical legal positivism
4:Modern legal positivism
5:Dworkin and law's moral claims
6:Legal realism
7:Law and social theory
8:Historical and anthropological jurisprudence
9:Theories of justice
10:Rights
11:Why obey the law?
12:Why punish?
13:Critical legal theory
14:Feminist theory
AUTHOR INFORMATION
Raymond Wacks, Emeritus Professor of Law and Legal Theory, University of Hong Kong
Professor Raymond Wacks has taught jurisprudence around the world for over thirty years. He has published more than twenty books and numerous articles on legal philosophy, the right of privacy, and human and animal rights. His books have been translated into several languages including Arabic, Greek, Turkish, Chinese, Italian, Indonesian, Japanese, Thai, and Georgian.
Contact Us
Contact Us
LegalBooks.ie
Legal & General Shop
The Law Society Building
The Four Courts
Dublin 7
01 8725522
info@legalbooks.ie
D07 N972

VAT number: IE4814267p


Payment & Security
Your payment information is processed securely. We do not store credit card details nor have access to your credit card information.