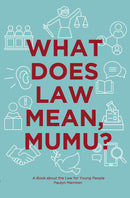 Description
Author: Paulyn Marrian
Published: 2020 
ISBN: 9781916373006
Lawyer, Paulyn Marrinan first foray into young adult storytelling, the book is an introduction to the law for young people interested in fairness, justice and peace.
The story begins as Mumu and a group of young people, later to be called Learners, leave Verity to the airport. She was a French exchange student and now returns to start her Law Studies in France. Sad to see her leave, the group is cheered by Mumu idea to start a pen friend project through which they can find out how the Law works in France. But, as a first step, they need to know something about how it works nearer to home.
The group embarks on a nomadic tour with Mumu, in a one thing leads to another style to learn a little about what the Law does; and why we need it.
With the objective of nurturing curiosity and engaging the Learners in the theme, Mumu introduces them to some conventional systems as well as aspects of Alternative Dispute Resolution processes that are non-adversarial and facilitate the amicable resolution of disputes.
In her new Book: What does Law Mean, Mumu? - Irish Lawyer and Mediator - Paulyn Marrinan Quinn, introduces young people to some Alternative Dispute Resolution Processes (ADRs) such as Mediation, Ombudsman and, connected to crime and punishment, diversionary restorative justice programmes that may assist in keeping young offenders out of the courts and out of prison.
Paulyn Marrinan Quinn Lawyer, Founder Conflict & Dispute Resolution Studies - Trinity College Dublin University, introduces her new Book - 'What does Law mean, Mumu?' - An Introduction to the Law for Young People. It is hoped that this little Book will contribute to young people thinking further, researching, and reflecting on what is needed to protect the organisation of society in a way that guarantees civil rights and freedoms - giving citizens a proportionate say in how their society is organised.
Contact Us
Contact Us
LegalBooks.ie
Legal & General Shop
The Law Society Building
The Four Courts
Dublin 7
01 8725522
info@legalbooks.ie
D07 N972

VAT number: IE4814267p


Payment & Security
Your payment information is processed securely. We do not store credit card details nor have access to your credit card information.